Auto Accidents
If You've Been Injured in a Car Accident, New York City Personal Injury Attorney Richard C. Bell Can Help You Seek Money Compensation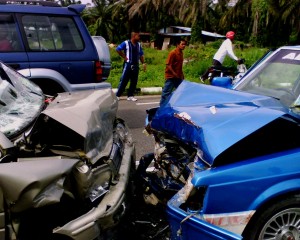 Car accidents are a serious problem in New York City and across the nation. In New York state alone, in 2012, there were 251,000 police reported car accidents as reported by the NYSDMV.  These accidents resulted in over 1,100 fatalities and over 150,000 non-fatal injuries. Many of these accidents were in New York City, as it is obviously the most heavily populated and trafficked city in the state. Unfortunately, most of the accidents were preventable and many were the result of negligence of:
Drunk drivers
Distracted drivers
Motorists who were talking or texting on their cell phone
Car owners who did not properly and safely maintain their vehicle
Reckless driving
Improperly manufactured car parts
And more
Whatever the reason for the collision between vehicles or between pedestrians and vehicles, if you or a loved one have been injured in a car accident in which you were not at fault, you may be struggling to get the compensation you deserve. Auto accident attorney Richard C. Bell has the experience and drive necessary to try your case in court or pursue settlement negotiations and get you the money you deserve for medical bills, lost wages and pain and suffering.*
Richard C. Bell is a NYC Personal Injury Attorney Who Understands the Turmoil You Face after a Car Accident
Injuries sustained in car accidents are often quite serious, requiring lengthy hospitalization, ongoing physical and occupational therapy, and weeks or months of missed work. Very serious accidents may result in permanent disability, leaving victims unable to work and provide for their families. Fatal accidents often leave grieving family members and dependents who suddenly find themselves without a provider. Whether you are the injured victim of a car accident in New York or the grieving family, car accident attorney Richard C. Bell understands the stress and sadness of this difficult time. He works with each client with compassion, offering guidance throughout the legal process. In this way, you can rest assured that your case is in capable hands and you can focus on physical and emotional recovery.
If You Have Been in a Car Accident, Help Your New York Accident Attorney Help You
Though Mr. Bell handles details of an accident case after he has taken you on as a client, there are certain things that you should do immediately following a car accident. Taking these steps will often increase your chances of a successful outcome for your personal injury lawsuit.
Call an ambulance if anyone is injured.
Call the police and make a note of the accident report number. Be sure to get a copy of the accident report no later than 29 days after the incident.
Write down the name of the other driver(s), and copy their license plate number, insurance company, and policy number.
Write down the names, addresses, and phone numbers of all witnesses to the accident.
Write down all the damage done to your car.
Draw a diagram of the accident, including where the cars were before and after the crash.
Call your insurance company to report the accident, but do not give them a written or recorded statement without first consulting a lawyer.
Take pictures of the accident site and the damage to the cars at the scene.
By taking these initial steps, your attorney will be in a much better position to help you. Using this information, Mr. Bell can launch an extensive investigation into your accident and prepare a persuasive and tough legal approach to get you the compensation you deserve.
If You Have Been Injured, Call New York Auto Accident Attorney Richard C. Bell without Delay
With his years of experience and intimate knowledge of personal injury law, auto accident attorney Richard C. Bell has a proven track record of success and has won millions of dollars for his clients, including:
An $8 million verdict in an automobile/truck accident case.*
A $3.62 million settlement after seven weeks of trial in an automobile accident/roadway maintenance case.*
When you are injured in a car accident, legal counsel can help you obtain your full financial and pain and suffering damages. Mr. Bell has been concentrating his practice on personal injury law for more than 38 years and has the experience and knowledge necessary to present your case and maximize your recovery*. Contact Richard C. Bell today to schedule your initial free consultation and take the first steps toward getting the compensation you deserve. Call toll free at 877.CALL.LAW (225-5529) or call 212.714.0988.
* Prior results cannot and do not guarantee a similar outcome.

This website contains "Attorney Advertising." It is designed for general information only and should not be construed to be formal legal advice. Prior results cannot and do not guarantee a similar outcome. Please contact us by telephone or email. Be advised that using any method of communication to contact us does not create an attorney – client relationship. In order for this office to represent you, we must enter into a written retainer agreement. Simply contacting us does not create an attorney-client relationship. Please do not send any confidential information to this office until after a signed retainer has been entered into by you and this office.

Call us: (877) Call-Law® (225-5529) Or (212) 714-0988
Attorney Richard C. Bell
Request A Free Consultation