Elevator Accidents
Elevator Accidents Can Have Tragic Consequences – Call an Experienced New York Personal Injury Attorney about Every New Yorker's Nightmare: An Elevator Accident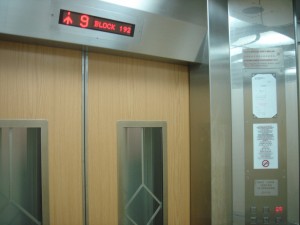 When you get on an elevator, the last thing you expect is a tragic accident. In fact, elevators are so much a part of our daily lives in New York City that we barely even think about them. Yet when something goes wrong, it can result in a catastrophe. Elevator accidents can cause serious injuries to the head, neck, spine, and limbs, and in some cases, these accidents can even be fatal. Elevator accidents can have a number of different causes, including:
The elevator gets stuck
The elevator floor is not level with the building floor
The elevator opens onto an empty shaft
Sudden changes in speed
The hoist cables are not properly maintained
The elevator falls down the shaft
The elevator is trapped in the shaft for a long period of time
Safety devices are not properly maintained
Sudden jerks cause passengers to fall
Faulty wiring causes an electrical fire
And more
No matter what specifically caused an elevator accident, property owners or managers and elevator maintenance companies may be responsible for the maintenance and safety of all elevators in a building. If you or your loved one has been injured in an elevator accident, you may be eligible for financial compensation and pain and suffering damages under premises liability law.
Richard C. Bell is Equipped for Even the Most Complex Cases Involving Elevator Accidents
Elevator accident lawsuits can be extremely complicated. Not only are there premises liability laws to deal with, there may also be particular issues regarding elevator installation, inspection, and maintenance. When you are dealing with an elevator accident injury case, you should obtain the services of a lawyer who is familiar with these particular areas to get you the financial compensation you deserve. In addition, you need an attorney who is familiar with elevator accident cases. New York injury attorney Richard C. Bell has been concentrating on personal injury cases for 38 years. Because his legal practice is focused on one branch of law, he has been able to obtain a depth of experience with even the most intricate types of personal injury cases. He can use his considerable experience to represent you in court and get you the maximum money you deserve.*
Mr. Bell Will Conduct an Extensive Investigation of Your Accident
Like any premises liability case, elevator accidents require an extensive investigation to prove who was at fault for the incident. Mr. Bell can carry out a lengthy study of the incident and, if it is viable, find the specific proof needed to win your case. No matter how complicated the case, Mr. Bell will work diligently in his clients' best interests.
For Understanding, Thorough Legal Counsel, Contact Richard C. Bell Today
If you have suffered a serious injury in an elevator accident, you are not only trying to recover physically, you are also trying to recover from the emotional trauma of the incident. Fortunately, Richard C. Bell is not only a skilled and tough New York City accident lawyer, he also treats his clients with great respect and sensitivity, knowing the emotional turmoil they are experiencing. Mr. Bell handles the details of the case so that you can focus on your physical and psychological recovery. For more information and to obtain your initial consultation, call toll free at 877.CALL.LAW (225-5529) or call 212.714.0988.
* Prior results cannot and do not guarantee a similar outcome.

This website contains "Attorney Advertising." It is designed for general information only and should not be construed to be formal legal advice. Prior results cannot and do not guarantee a similar outcome. Please contact us by telephone or email. Be advised that using any method of communication to contact us does not create an attorney – client relationship. In order for this office to represent you, we must enter into a written retainer agreement. Simply contacting us does not create an attorney-client relationship. Please do not send any confidential information to this office until after a signed retainer has been entered into by you and this office.

Call us: (877) Call-Law® (225-5529) Or (212) 714-0988
Attorney Richard C. Bell
Request A Free Consultation