Motorcycle Accidents
Motorcycle Accidents Are Often Caused by Carelessness: Richard C. Bell is Committed to Maximizing Compensation for New York City Motorcycle Accident Victims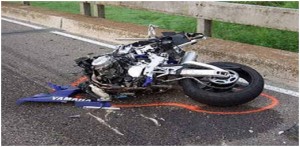 New York is the most populated city in the United States with over 8 million residents who call it home. In addition to the vast number of permanent residents, the city welcomes an estimated 55 million annual visitors. For motor vehicle drivers, traffic can pose inconveniences unlike those of any other city in the nation.
This excessive amount of congestion can lead to driving negligence and motorcyclists can become victims of careless truck drivers, bus drivers and automobile drivers. Due to the exposed nature of motorcycles, accidents with other vehicles may result in particularly severe injuries or even death for the motorcyclist. If you have been the victim of a motorcycle accident in New York City, Richard C. Bell has the experience to investigate and present your case from intake to trial.*
Richard C. Bell is Committed to Injured Motorcyclists
Richard C. Bell has more than 38 years of experience in dealing with vehicular accidents causing injuries.  There are more motorcycles on the road today than ever before, making motorcycle safety an important issue. Many New York City motorcycle accidents are caused by:
Failure to Comply with Traffic Laws
Driver Negligence
Speeding
Driving While Texting or Talking on Cell Phones
Drunk Drivers
Seeking  Legal Advice from an Experienced Attorney
Injuries sustained from motorcycle accidents can have permanent and debilitating effects. Seeking legal advice from an experienced attorney is time sensitive. Richard C. Bell is dedicated to the thorough investigation of New York City motorcycle accidents and he will fight for you every step of the way. To learn more about Richard C. Bell's tough legal approach to motorcycle accidents, call 877.CALL.LAW (225-5529) or call 212.714.0988.
* Prior results cannot and do not guarantee a similar outcome.

This website contains "Attorney Advertising." It is designed for general information only and should not be construed to be formal legal advice. Prior results cannot and do not guarantee a similar outcome. Please contact us by telephone or email. Be advised that using any method of communication to contact us does not create an attorney – client relationship. In order for this office to represent you, we must enter into a written retainer agreement. Simply contacting us does not create an attorney-client relationship. Please do not send any confidential information to this office until after a signed retainer has been entered into by you and this office.

Call us: (877) Call-Law® (225-5529) Or (212) 714-0988
Attorney Richard C. Bell
Request A Free Consultation