Bus Accidents
Bus Crashes Are Rarely Straightforward; Bus Accident Attorney Richard C. Bell Can Manage the Complexities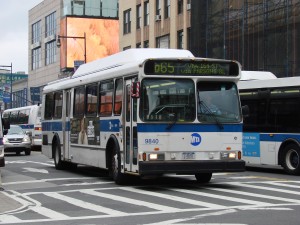 Bus crashes can be among the most catastrophic of accidents. The sheer size of a bus poses a danger to other drivers and pedestrians and for passengers, the number of people inside the bus coupled with the usual lack of seatbelts, air bags and other safety features, means that a bus crash can result in serious injuries or even death. We put a certain amount of public trust in bus companies and the drivers who work for them. Whether it is a city, private charter, tour, school, or another type of bus, the public assumes that these vehicles are owned, maintained, and operated by responsible, safety-conscious individuals. When an accident occurs because of the negligence or carelessness of a bus driver or company, it is not only a risk for serious injury, it is a breach of our trust.
Unfortunately, bus accidents have been on the rise in the last several years. If you or a loved one have been injured in a bus accident, you may be entitled to financial compensation. Contact New York personal injury attorney Richard C. Bell today to get the money you deserve.*
New York Injury Attorney Richard C. Bell Provides Experienced Legal Representation for Bus Accident Victims
Bus accidents can be very complicated because it is not always clear who is to blame for the accident. There are a number of common causes for bus crashes, including:
Bus driver fatigue
Improperly trained bus drivers
Bus driver negligence
Speeding
DUI/DWI
Road rage
Unruly passengers
Improperly maintained buses, tires, brakes, etc.
Improperly maintained roads
The wide-ranging causes of bus accidents mean that more than one party could be responsible for a bus crash. The bus driver could be found liable for carelessness or negligence, the bus company could be found liable for improper maintenance or negligence in training and disciplining their drivers, or the city could be found liable for neglecting proper road maintenance. Often, more than one party is ultimately liable for the same accident. Because of this complexity, choose a lawyer who is experienced specifically with bus accident cases and is committed to determining who was responsible for the incident. Richard C. Bell will conduct an extensive investigation into the accident to find out exactly what happened in order to obtain the full money compensation to which you are entitled.*
For Experienced, Tough Legal Representation, Call New York Bus Accident Lawyer Richard C. Bell
If you or your loved one has been injured in a bus accident – whether it was a school, city, or private bus – you should seek out an experienced bus accident lawyer in New York City. Richard C. Bell has been concentrating in personal injury cases for more than 38 years, and he has a proven track record of success*. His decades' long focus on accident and injury cases has given him intimate knowledge of even the most complex types of accidents and applicable injury law. To find out how Attorney Richard C. Bell can help you and to get your initial free consultation, call toll free at 877.CALL.LAW (225-5529) or call 212.714.0988.
* Prior results cannot and do not guarantee a similar outcome.

This website contains "Attorney Advertising." It is designed for general information only and should not be construed to be formal legal advice. Prior results cannot and do not guarantee a similar outcome. Please contact us by telephone or email. Be advised that using any method of communication to contact us does not create an attorney – client relationship. In order for this office to represent you, we must enter into a written retainer agreement. Simply contacting us does not create an attorney-client relationship. Please do not send any confidential information to this office until after a signed retainer has been entered into by you and this office.

Call us: (877) Call-Law® (225-5529) Or (212) 714-0988
Attorney Richard C. Bell
Request A Free Consultation