Trucking Accidents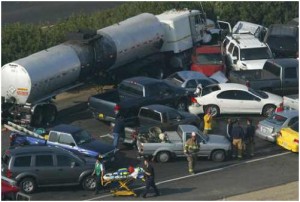 There are an estimated 8.9 million truck drivers currently employed in the United States, and New York is arguably the most heavily trafficked city in the nation.  When trucking accidents and collisions occur serious injuries or fatalities can result. Victims of trucking accidents can be adversely affected in a wide variety of ways, ranging from injury and job loss to death and deformity.
Trucking accidents in New York City may raise many complex legal issues. Obtaining a qualified attorney without delay is of the utmost importance to the outcome of these time sensitive cases. If you have been the victim of a New York City trucking accident, Richard C. Bell has the experience and legal knowledge that can arm you in the courtroom.*
Richard C. Bell is Committed to Bringing Justice to New York City Trucking Accident Victims
Attorney Richard C. Bell has a proven track record for representing New York City victims who have been injured in trucking accidents.* No matter which side of the wheel you were on when the accident occurred, obtaining a lawyer who understands your case and will fight for you is a way to maximize your results.*  Trucking accidents can be detrimental for:
Drivers
Pedestrians
Bicyclists
Many of these accidents are avoidable and are caused by someone else's carelessness. Many trucking accidents in New York City are attributed to:
Driver Fatigue
Distraction
The Influence of Drugs or Alcohol
Hazardous Weather Conditions
Overloaded Vehicles
Legal battles don't begin in courtrooms.  They begin the moment an accident occurs. Thorough investigation of these incidents plays a major role in legal proceedings. Many truck accident victims experience:
Serious Injury
Job Loss
Loss of Wages
Loss of Life
The injuries sustained from a trucking accident can have lasting, lifelong effects. If you have been injured due to the negligence of a company or a driver, it is Richard C. Bell's job and priority to maximize the compensation you deserve.*
Richard C. Bell's mission is to provide New York truck accident victims with the qualified legal representation they need to make the most of their claim. He has been providing this service to New York truck accident victims for more than 38 years. Putting this accident behind you starts by picking up the phone and dialing 877.CALL.LAW (225-5529) or 212.714.0988.
* Prior results cannot and do not guarantee a similar outcome.

This website contains "Attorney Advertising." It is designed for general information only and should not be construed to be formal legal advice. Prior results cannot and do not guarantee a similar outcome. Please contact us by telephone or email. Be advised that using any method of communication to contact us does not create an attorney – client relationship. In order for this office to represent you, we must enter into a written retainer agreement. Simply contacting us does not create an attorney-client relationship. Please do not send any confidential information to this office until after a signed retainer has been entered into by you and this office.

Call us: (877) Call-Law® (225-5529) Or (212) 714-0988
Attorney Richard C. Bell
Request A Free Consultation