Construction Accidents
Injured in a Construction Accident? Richard C. Bell Will Fight For Your Rights Which May Be Special Rights Unique To New York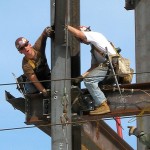 If you or a loved one has been injured in a construction site accident, you may be entitled to financial compensation.  Every year there are tragic construction site accidents that cause serious injuries and death. Because construction workers depend on their health to do their job, a serious injury can put them out of work for months, if not permanently. This means that injured construction workers should not only seek compensation for related medical expenses, but also compensation for lost wages and pain and suffering now and into the future. Construction site accidents can be quite traumatic, so if you or someone you love has been injured in such an accident, you may be entitled to such compensation for pain and suffering and salary losses. New York personal injury attorney Richard C. Bell can help you fight for your rights and recover the full extent of the compensation you deserve*. Mr. Bell is tireless in his work to protect his clients' best interests.
New York Injury Lawyer Richard C. Bell Understands the Complexities of the Construction Labor Laws of New York
Construction workers face a higher risk of injury than workers in most other industries. Every year, there are hundreds of construction site related deaths and thousands more injuries. Workers face constant dangers from heavy machinery, falling debris, and the risk of falling from ladders, scaffolds, and other elevated areas.
Mr. Bell represents clients in many areas of construction worker personal injury cases, including:
Falls from ladders
Falls from scaffolds
Falls from heights
Falls from machinery/equipment
Workers being hit by a large objects
Falls on debris/uneven surfaces/construction materials and equipment
Sadly, many of these accidents are the result of unsafe safety procedures on the part of employers, construction companies, and site managers and if proper safety protocol was followed, hundreds of deaths and injuries could be prevented each year. In fact, OSHA set up safety guidelines for construction sites that have been in place since 1970. New York also has special labor laws to protect construction workers involved in many construction site accidents. If you are considering starting a construction worker lawsuit, you should obtain the services of an attorney who is familiar with safety standards and New York labor laws regulating the construction industry. Mr. Bell has been focused on personal injury law for over 38 years and therefore is highly experienced in construction law and worker safety measures.
For Tireless, Tough Legal Representation, Contact Construction Injury Attorney Richard C. Bell
Construction accident cases are rarely straightforward. A wide range of parties can be found responsible for the accident, including the construction site owner, general contractor, sub-contractor, equipment owner or manufacturer, architect or engineer. Mr. Bell will conduct an extensive investigation of your injury to determine precisely who was responsible for the accident. He will represent you in litigation to get you the full extent of the compensation to which you are entitled.* At the same time, he will treat you and your family with compassion, knowing the difficult time you are going through. To obtain a free initial consultation and find out how Mr. Bell can help you with your construction injury case, call him today toll free at 877.CALL.LAW (225-5529) or 212.714.0988.
* Prior results cannot and do not guarantee a similar outcome.

This website contains "Attorney Advertising." It is designed for general information only and should not be construed to be formal legal advice. Prior results cannot and do not guarantee a similar outcome. Please contact us by telephone or email. Be advised that using any method of communication to contact us does not create an attorney – client relationship. In order for this office to represent you, we must enter into a written retainer agreement. Simply contacting us does not create an attorney-client relationship. Please do not send any confidential information to this office until after a signed retainer has been entered into by you and this office.

Call us: (877) Call-Law® (225-5529) Or (212) 714-0988
Attorney Richard C. Bell
Request A Free Consultation