Taxi/Uber/Lyft Accidents
Taxi/Uber/Lyft Accidents Are a Serious Problem in NYC; Let Manhattan Attorney Richard C. Bell Represent You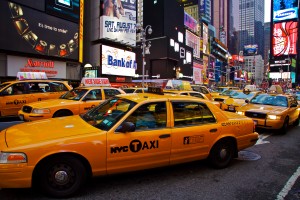 Taxi cabs are nearly synonymous with New York City, and you can't walk down a block without seeing at least a few of them weaving in and out of traffic, tailgating other cars and almost grazing pedestrians and bicyclists at every corner.  Taxis are not a new development in New York's history; they have been a part of the city since 1897 and are ubiquitous. In recent years Uber and Lyft cars have become voluminous on New York City streets as well. But the reckless driving of city taxi/Uber/Lyft drivers is almost as famed as the taxi/Uber/Lyft cars themselves and accidents involving these vehicles can cause serious injury to passengers, pedestrians, bicyclists and drivers. If you have been injured in a taxi/Uber/Lyft accident, you need the services of an experienced and tough New York City personal injury attorney.
Richard C. Bell has been practicing law in New York since 1982.  He is very familiar with state and city traffic laws and uses this knowledge to further his clients' best interests. Since 1982, Mr. Bell has focused on personal injury cases, making him extremely well-versed in this complicated branch of law. Mr. Bell's years of experience, combined with his intimate knowledge of New York City and its unique nuances, have made him the choice for many New Yorkers and tourists visiting New York City who have been injured in a taxi accident here.*
Taxi Accidents Can Cause Severe Injuries
Recent  local news here in New York City has been filled with tragic accidents involving out of control for-hire vehicles jumping curbs and seriously injuring pedestrians and passengers. Those involved in a taxi/Uber/Lyft accident are more likely to suffer a serious injury than regular automobile passengers, partly attributed to the fact that riders in for-hire vehicles often do not wear seatbelts, partly because of the proximity of passengers to partitions put in place to protect drivers from passengers and partly due to the congested streets that allow these cars to come in close range of pedestrians and bicyclists at almost every corner. Other causes of such accidents include:
Driver negligence or recklessness
Driver fatigue
Speed
Distracted driving
Improper training for taxi drivers
No matter the cause of your accident, you may have been left with severe injuries such as amputations, broken bones and permanent head trauma, among others. If you have sustained serious injuries in a taxi accident, you are likely entitled to financial compensation to cover medical bills, lost wages, and pain and suffering. Richard C. Bell will work tirelessly to get you the maximum compensation that you may deserve.*
Contact New York Taxi/Uber/Lyft Accident Attorney Richard C. Bell to Get Tough and Smart Legal Counsel for Your Case*
For many personal injury claims, time is of the essence.  Many times, the earlier you begin your claim, the better it may be for the success of your case. If you have sustained a serious personal injury due to a taxi/Uber/Lyft accident in New York City, contact Richard C. Bell today. He will provide a free initial consultation and if he believes you have a viable case, he can methodically begin preparing a lawsuit against the party or parties responsible for your injury. For experienced, compassionate, and reliable legal services, contact Richard C. Bell today. You can call him toll free at 877.CALL.LAW (225-5529) or 212.714.0988.
* Prior results cannot and do not guarantee a similar outcome.

This website contains "Attorney Advertising." It is designed for general information only and should not be construed to be formal legal advice. Prior results cannot and do not guarantee a similar outcome. Please contact us by telephone or email. Be advised that using any method of communication to contact us does not create an attorney – client relationship. In order for this office to represent you, we must enter into a written retainer agreement. Simply contacting us does not create an attorney-client relationship. Please do not send any confidential information to this office until after a signed retainer has been entered into by you and this office.

Call us: (877) Call-Law® (225-5529) Or (212) 714-0988
Attorney Richard C. Bell
Request A Free Consultation