Nursing Home Abuse
If you have a family member in a nursing home or long-term care facility, call the local Long-Term Care Ombudsman Program (advocates for patients) with any complaints or questions about your loved one.  It is a free service.
Richard C. Bell: Providing Legal Counsel for New York City Victims of Nursing Home Abuse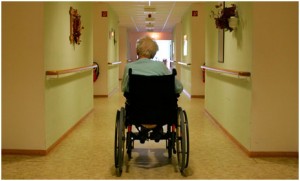 Entrusting a professional with the welfare of a beloved family member is always a tough decision, but as the aging population in the nation increases, the need for full-time care can become a necessity. The overall expense of utilizing nursing home establishments in addition to the mental stress associated with the separation are already a burden. Worrying about the welfare of your loved one once they're placed in a nursing home facility should not be added to the list, yet nursing home residents become victims of abuse many times. Nursing home residents may be abused by a trusted staff member while on the premises of their temporary, or permanent housing facility. Injuries may range from fall downs to bed sores to even fatalities. If your elderly loved one was harmed in a nursing home in New York City, Richard C. Bell can provide you with the kind of legal representation and advice you deserve.
Richard C. Bell Understands That Elder Abuse is a Very Serious Matter
There may be special protections under New York law that apply to a particular elder abuse case. Often times, elderly patients who are in need of around the clock assistance are as helpless as young children. There are many different types of elderly abuse that can take place in a nursing home:
A fractured hip resulting from a fall down
Serious injury or death resulting from failure to administer medication promptly or properly
Debilitating bed sores from negligent care
Richard C. Bell's Goal Is Bringing Justice on Behalf of New York City's Senior Citizens
Richard C. Bell's mission is to maximize compensation for New York City residents who have been harmed as a result of nursing home abuse.* In many abuse cases, evidence is time sensitive, so obtaining a qualified lawyer in a timely fashion is a way to ensure the maximum results.* To begin a thorough investigation of your claim without delay, call Richard C. Bell at 877.CALL.LAW (225-5529) or 212.714.0988.
* Prior results cannot and do not guarantee a similar outcome.

This website contains "Attorney Advertising." It is designed for general information only and should not be construed to be formal legal advice. Prior results cannot and do not guarantee a similar outcome. Please contact us by telephone or email. Be advised that using any method of communication to contact us does not create an attorney – client relationship. In order for this office to represent you, we must enter into a written retainer agreement. Simply contacting us does not create an attorney-client relationship. Please do not send any confidential information to this office until after a signed retainer has been entered into by you and this office.

Call us: (877) Call-Law® (225-5529) Or (212) 714-0988
Attorney Richard C. Bell
Request A Free Consultation