Medical Malpractice
If You Have Been Injured by a Medical Professional, Let New York Injury Lawyer Richard C. Bell Fight for You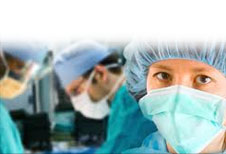 Many people trust doctors, nurses, and other medical personnel implicitly to take care of them and their loved ones, and to provide the best possible care. Doctors and nurses spend years in training, and take oaths to protect the good of their patients. So if you or a loved one has sustained serious injury or harm due to the negligence of a medical professional, you are no doubt feeling angry, frightened, and confused. Malpractice often results in further medical bills; depending on the degree of the injury, you may have lost time and wages at work or you may not be able to enjoy the activities you once did. If you sustained a serious injury, you may be entitled to money for your medical bills and lost salary as well as compensation for the pain and suffering you have endured. In this time of upheaval, you can rely on New York medical malpractice lawyer Richard C. Bell to stand up vigorously for your rights to get you the financial compensation you deserve*.
Choose an Attorney with Experience in Many Types of Medical Malpractice Cases
A wide range of circumstances can result in serious injury or illness for a patient. Some of the more common types of medical malpractice cases include:
Failure to diagnose a condition or making a wrong diagnosis
Prescription drug errors
Surgical mistakes
Failure to warn a patient of risks
Unsanitary facilities or instruments
Clerical errors
Because there are so many different types of medical malpractice, it is important to choose an attorney with experience in a wide range of such cases. Richard C. Bell has handled medical malpractice cases for decades and therefore has experience and knowledge regarding this often complex branch of law.*
With a Proven Record of Success, Richard C. Bell Will Bring His Experience to Work for You*
Not only does Mr. Bell have an in-depth knowledge of medical malpractice cases, he has demonstrated his abilities in several high profile malpractice cases, including:
A $6.5 million verdict in a urological medical malpractice case*
A $2.9 million settlement against 12 defendants in a medical malpractice and wrongful death suit*
These are but two of Mr. Bell's medical malpractice cases, and he is ready to use his knowledge and experience to help you in your malpractice suit. He is tireless in fighting for the good of his clients, and he will do everything the law allows to get you the money you deserve. In addition, he believes that medical personnel should be held responsible for their negligent actions, and he is committed to seeking justice against such wrongdoers.
Contact Richard C. Bell for Tough, Knowledgeable Medical Malpractice Counsel in New York City
For medical malpractice claims, time is of the essence.  The time limit to begin such a lawsuit in New York City is less than the time limits for most general negligence cases. If you have sustained a serious injury at the hands of a medical professional or institution, contact Richard C. Bell today. He will provide a free initial consultation, and if he believes you have a viable case, he can methodically begin preparing a lawsuit against the party or parties responsible for your injury. For experienced, compassionate, and reliable legal services, contact Richard C. Bell today. You can call him toll free at 877.CALL.LAW (225-5529) or 212.714.0988.
* Prior results cannot and do not guarantee a similar outcome.

This website contains "Attorney Advertising." It is designed for general information only and should not be construed to be formal legal advice. Prior results cannot and do not guarantee a similar outcome. Please contact us by telephone or email. Be advised that using any method of communication to contact us does not create an attorney – client relationship. In order for this office to represent you, we must enter into a written retainer agreement. Simply contacting us does not create an attorney-client relationship. Please do not send any confidential information to this office until after a signed retainer has been entered into by you and this office.

Call us: (877) Call-Law® (225-5529) Or (212) 714-0988
Attorney Richard C. Bell
Request A Free Consultation