Fall Downs
Slip and Fall and Trip and Fall Accidents (Fall Downs) Can Cause Serious Injury; New York Accident Attorney Richard C. Bell Can Help You Recover the Compensation You Deserve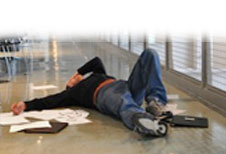 Sometimes when people fall, it is a result of poorly maintained property or inadequate safety measures. In these cases, when serious injury results, you may have grounds for a premises liability case. Falls due to poorly maintained property can cause serious and debilitating injuries and may leave victims with serious and permanent injuries, huge medical bills, lost wages and even the inability to go back to work or engage in the activities they once enjoyed. In these cases, victims are entitled to financial compensation, and it is legally just that negligent property owners or managers be held responsible for their actions. If you have been seriously injured in a slip and fall or trip and fall case, New York personal injury attorney Richard C. Bell will work tirelessly to get you the money you deserve.
Let Richard C. Bell's Experience Work for You When You've Been Injured Due to a Fall Down
Premises liability cases are among the most difficult to prove; it is often easy for property owners and managers to cover up their mistakes and to blame the victim's injuries on his or her own alleged clumsiness. Accident lawyer Richard C. Bell has been representing victims in personal injury cases for over 38 years, and his vast experience is important when it comes to this difficult branch of law*. He will undertake an extensive investigation in order to prove property owner or manager negligence. Contributing factors to a slip and fall or trip and fall case can include:
Wet floors
Snow and ice covered walkways/sidewalks
Obstructed walkways
Loose tiles or uneven sidewalks
Poor lighting
Lack of safety railings
Uneven stairs
And more
No matter what caused you to fall, Mr. Bell will do all in his power to find and capture the viable evidence and use it to advocate for your interests.
In Slip and Fall and Trip and Fall Cases, Cooperation with Your Accident Attorney Is Vital
Because of the difficulty in proving premises liability cases, if you have been injured because of a property owner's or property manager's negligence, it is essential that you act quickly and contact a New York personal injury attorney as soon as possible. A delay may allow the property owner to cover up evidence of carelessness. In addition to contacting your lawyer as quickly as you can, there are several other things you can do to increase your chances of winning your slip and fall lawsuit.
Immediately report the accident to a facility owner or manager
If the accident happened at work, immediately report it to your employer
File a written report and obtain a copy for your records
Find the cause of your fall and take a picture
Talk to all witnesses and get their names and contact information
Do not give any details to an insurance company representative until you talk to your attorney
Do not sign any paperwork from the negligent company or facility until you talk to your attorney
Once you have taken these initial steps at the scene of the accident, Richard C. Bell will handle all the details of your case, while still keeping you informed of the process. This will allow you to focus on recovery and putting this ordeal behind you.
For Effective Legal Counsel, Contact NYC Accident Attorney Richard C. Bell Today
With his years of experience and intimate knowledge of premises liability law, slip and fall attorney Richard C. Bell has a proven track record of success and has won millions of dollars for his clients, including:
A $2.5 million settlement at jury selection for a trip and fall on a sidewalk plaza grate.*
A $1.3 million settlement for a trip and fall by a truck driver at a loading dock.*
Mr. Bell will bring his knowledge and experience to every aspect of your case.
For a Slip and Fall or Trip and Fall Case, Richard C. Bell Provides Tough, but Compassionate Personal Injury Counsel in New York City
For many personal injury claims, and especially a slip and fall or trip and fall accident, time is of the essence.  Many times, the earlier you begin your claim, the better it may be for the success of your case. If you have sustained a serious personal injury due to a slip and fall or trip and fall accident, contact Richard C. Bell today. He will provide a free initial consultation, and if he believes you have a viable case, he can methodically begin preparing a lawsuit against the party or parties responsible for your injury. For experienced, compassionate, and reliable legal services, contact Richard C. Bell today. You can call him toll free at 877.CALL.LAW (225-5529) or 212.714.0988.
* Prior results cannot and do not guarantee a similar outcome.

This website contains "Attorney Advertising." It is designed for general information only and should not be construed to be formal legal advice. Prior results cannot and do not guarantee a similar outcome. Please contact us by telephone or email. Be advised that using any method of communication to contact us does not create an attorney – client relationship. In order for this office to represent you, we must enter into a written retainer agreement. Simply contacting us does not create an attorney-client relationship. Please do not send any confidential information to this office until after a signed retainer has been entered into by you and this office.

Call us: (877) Call-Law® (225-5529) Or (212) 714-0988
Attorney Richard C. Bell
Request A Free Consultation