Category:Personal Injury
New York Trucking Accidents by the Numbers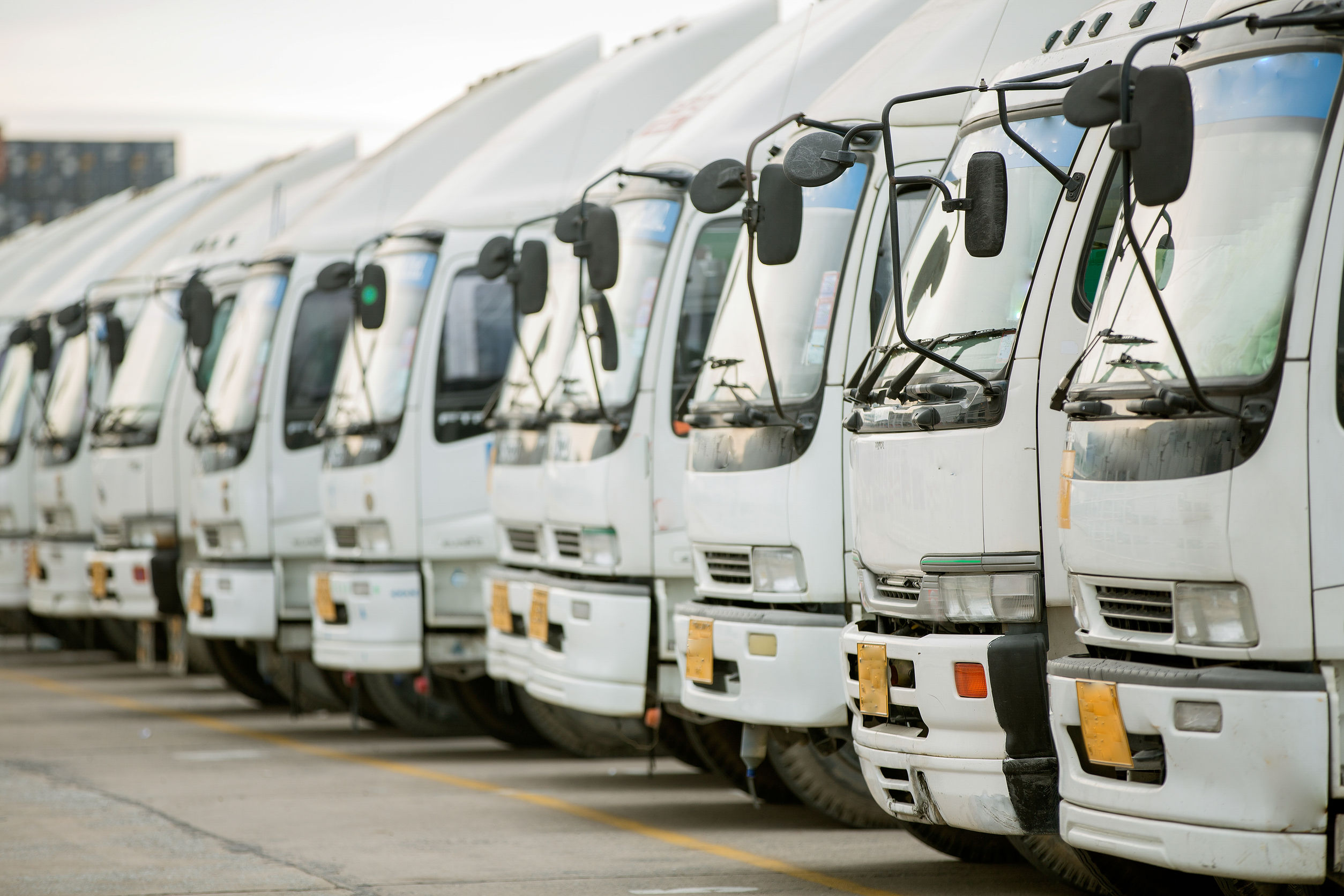 Big trucks are, well, big. Much larger than other vehicles on the road. That means that they have more momentum – even when traveling at the same speed. Because of this, trucking accidents are exceptionally dangerous for motorists and pedestrians.
To address this danger, many laws have been put in place to prevent negligent or impaired driving by truckers. Unfortunately, trucking accidents are still far too commonplace.
Case-in-point: recently in Rochester, a trucker rear-ended a woman while he was online shopping on his phone. The victim, 45-year-old Ellen M. Volpe, died at the scene.
Volpe was an assistant professor of nursing at the State University of New York at Buffalo School of Nursing.  She specialized in treating post-traumatic stress disorder in adolescents and worked in community health centers. At the time of the accident, Volpe was on the way to work.
Kristofer Gregorek, 27, the truck driver, rear-ended Volpe at 70mph in a construction zone. He recently pleaded guilty to second-degree manslaughter, and faces up to 15 years in prison.
Volpe was a wife and mother, and is survived by her husband and children. Sadly, negligent trucking accidents all too often leave victims to pick up the pieces and try to make sense of a tragic and preventable loss.
New York Trucking Accident Statistics
Due to congested roadways and frequent construction, auto accidents of all kinds are common in New York as are pedestrian injuries. In 2014, a total of 299,452 crashes occurred, – 118,465 crashes (39%) were injurious, and 966 (0.3%) were fatal.
Trucking accidents are fortunately much less common, with a total of 11,848 New York trucking accidents in 2014. However, of these accidents 74 (0.6%) were fatal, meaning that accidents involving a big truck are twice as likely to be fatal as auto accidents overall.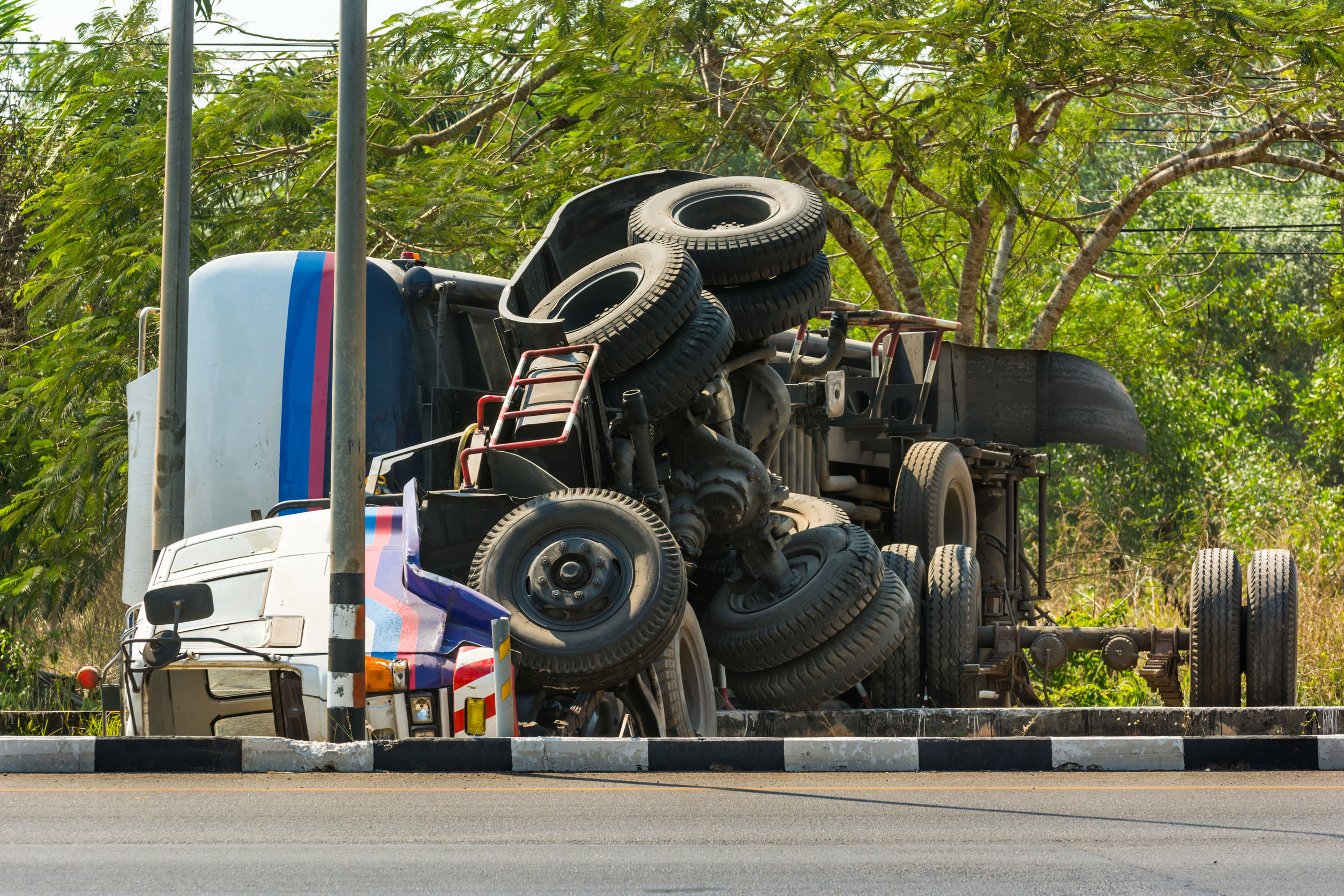 These statistics are even more alarming when we break down who is typically killed or injured as a result of large truck crashes. Of 79 total fatalities, only seven large truck drivers were killed. Moreover, among 5,003 non-fatal injuries, only 740 were sustained by large truck drivers.
What this means for New York drivers and pedestrians is that regardless of fault, the people most likely to pay the price for trucking accidents are the drivers and passengers of smaller vehicles.
Negligent Trucking Accidents in New York
Sadly, many of these trucking accidents are preventable. Truckers and trucking companies are driven by the bottom line – profit is maximal when goods are delivered as fast as possible, allowing for fast turnarounds. However, this can occur at the expense of other drivers as skirting regulations for a faster turnaround time often results in accidents.
Common factors that can lead to negligent trucking accidents include:
Truckers driving for more consecutive hours than permitted by the Federal Motor Carrier Safety Administration (FMCSA)
Truckers driving while fatigued or tired
Insufficient driver training and driver inexperience
Aggressive driving
Truckers driving under the influence of drugs, alcohol or prescription medication
Distracted driving
Speeding or driving too fast for road conditions
Poor maintenance and inspection practices
Improper cargo securement
Failure to inspect the truck or cargo prior to departure and in required intervals
New York Trucking Accident Liability
When a family member is seriously injured or killed as a result of a trucking accident, there are often grievous financial consequences, in addition to pain and suffering.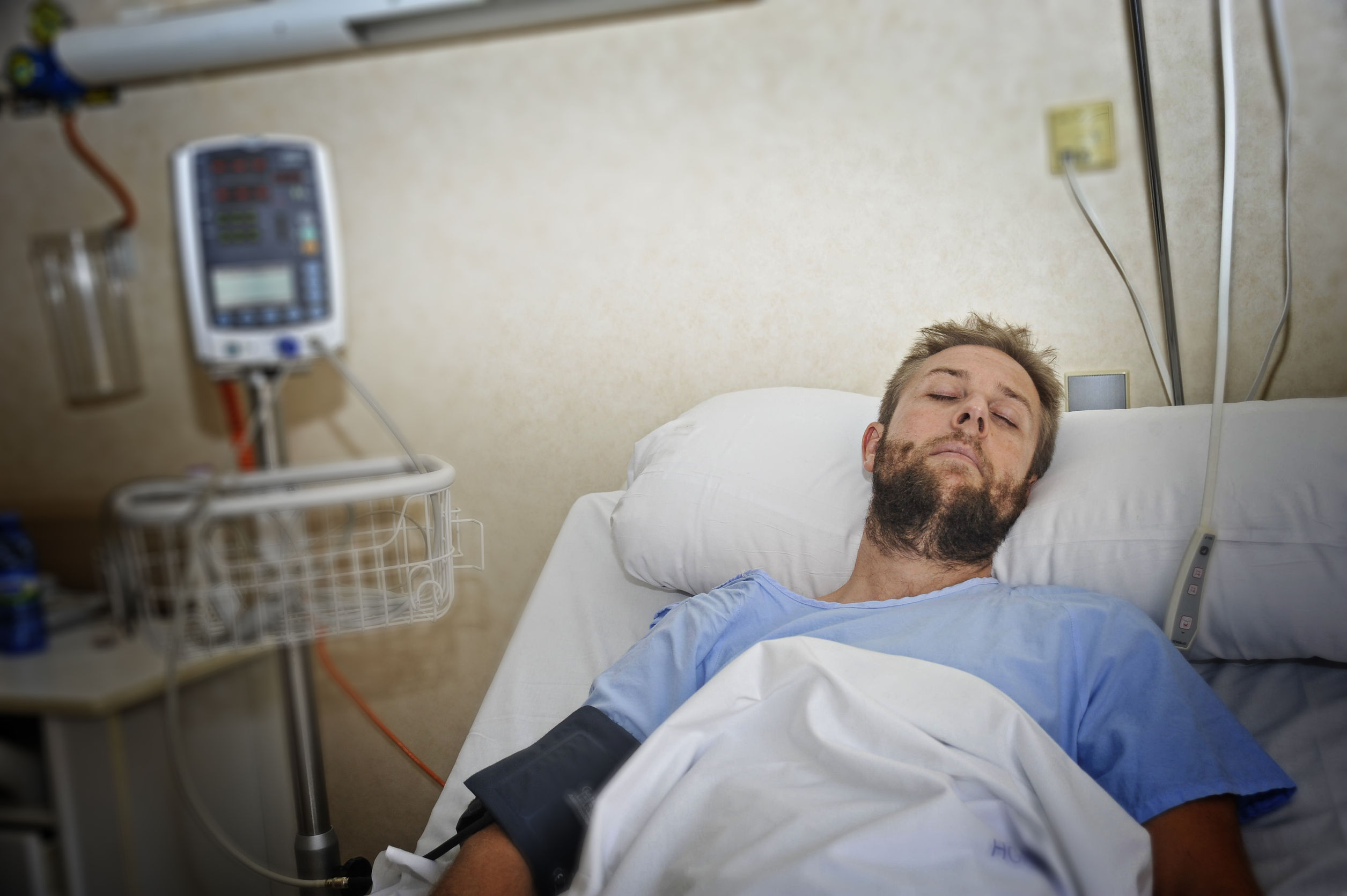 In addition to seeking proper compensation, holding the trucker and/or trucking company accountable for the accident may also help to bring some closure and change policies and behaviors that might lead to another accident.
However, determining liability and seeking damages in a trucking accident is often complex. In many cases the trucking company is held liable even when the accident occurs due to operator error since the employer is often held liable for its employees' actions. However, trucking companies often attempt to deny liability, claiming that the driver is not an employee, but rather is an independent contractor.
What NY Trucking Accident Victims and Their Families Can Do
If you or a loved one are a victim of a negligent trucking accident, seeking damages can be a difficult and overwhelming process. Fortunately, you do not need to navigate this process on your own.
A New York personal injury attorney with experience in trucking accident liability will know how to navigate the complex landscape of a trucking accident liability case and strive to help you get the compensation you deserve. Get in touch now for a free consultation to preserve your rights to be justly compensated.
Breaking Down Who Gets Hurt in NY Escalator Accidents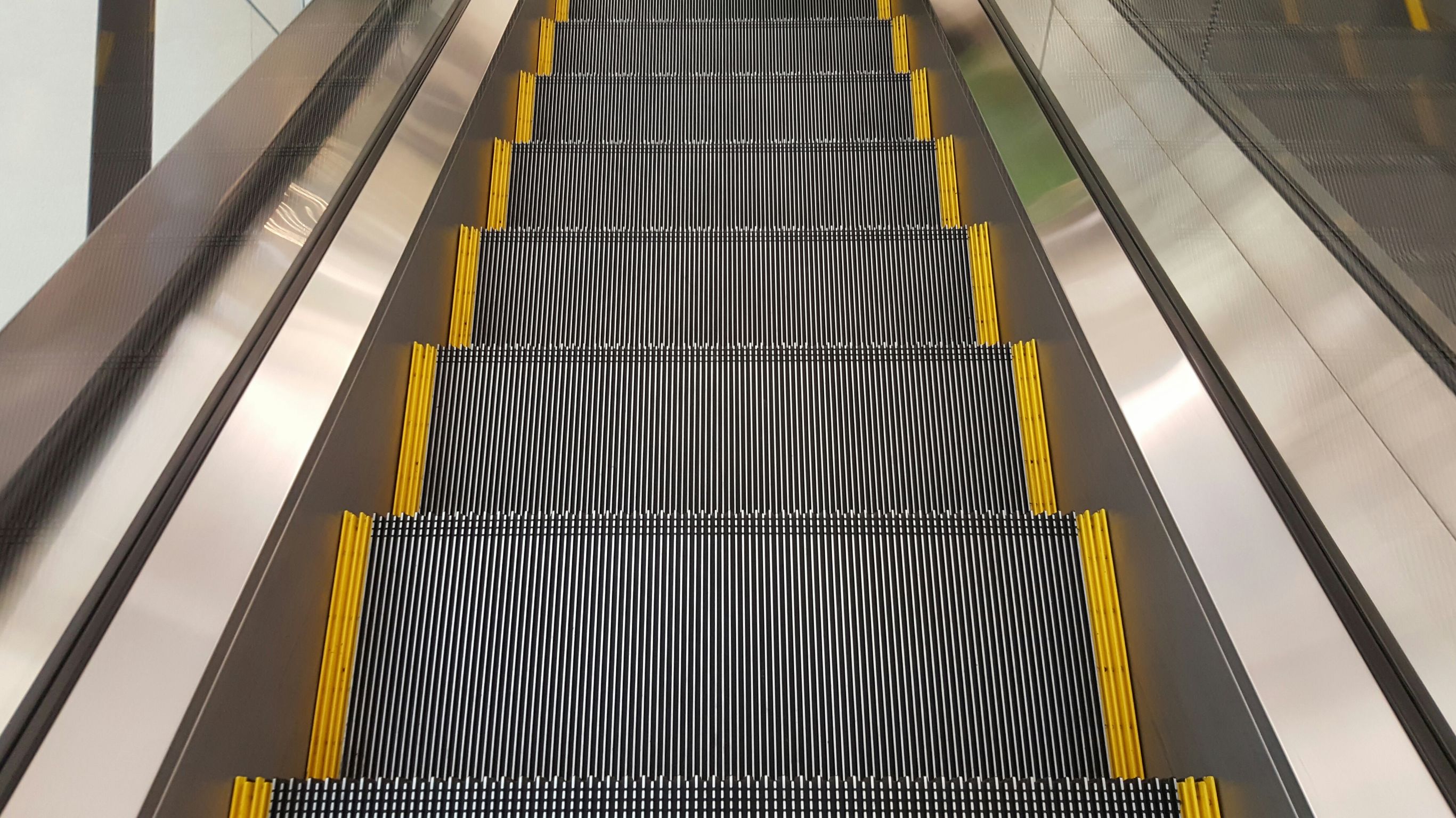 Recently in Vancouver, a 2-year-old boy broke his leg when his boot got caught in an airport escalator. He was riding the escalator with his mother when his rubber boot was grabbed by the escalator and his leg was twisted. A staff member pushed the emergency stop button before the boy and his mother reached the bottom.
His mother says if the escalator had been equipped with a sensor to detect the boot before it got caught, her son would have been protected from injury.
In Las Vegas, a 21-year-old man was critically injured in an escalator accident. The intoxicated man tried to slide down the escalator rail, but fell from the second floor of the Neonopolis shopping complex and was taken to the hospital.
The bottom line? Escalator accidents are more common than you might realize. Every year, nearly 10,000 escalator injuries send people to the hospital in the United States.
Who tends to get into these types of accidents?
Escalator Injury Stats
A Swiss study made these conclusions about who gets injured, when, where, why, and what results:
Women over 60 years old are at a higher risk of injury. This is true for nearly half of the men as well.
Half the men in the study were intoxicated at the time of injury.
Men are most likely to be injured on Saturdays between 6:00 p.m. and 12:00 a.m.
Women are most likely to be injured on Tuesdays between 12:00 p.m. and 6:00 p.m.
The majority of accidents occurred in public transport facilities.
Women are most likely to have injuries to lower extremities.
Men experience injury most often to the head and neck areas.
Nearly half of the injured people needed hospital care. Of that group, over half stayed in the hospital for more than one day.
Falls on escalators are the most common reason for injuries.
Soft tissue injuries are the most common type of escalator injuries.
To sum it up, elderly women and intoxicated men are the most likely groups to experience elevator accident and many of the injuries they suffer will require significant medical care.
How to Handle a NY Escalator Injury – No Matter Who You Are
If your injury occurs due to someone's negligence, you can file a premises liability lawsuit to seek compensation for your medical bills and other expenses.
You'll first need to visit a doctor, no matter how minor your injuries may seem at first. Many symptoms of soft tissue injuries don't fully appear until days or weeks after the accident. Yet these injuries may require long-term medical therapies, which will add up quickly. Your doctor's visit is the most important piece in proving that someone else's negligence caused your injury.
Many premises liability lawsuits have strict filing deadlines. Don't wait to file a claim, because if you miss the statute of limitations, your case will not be viable.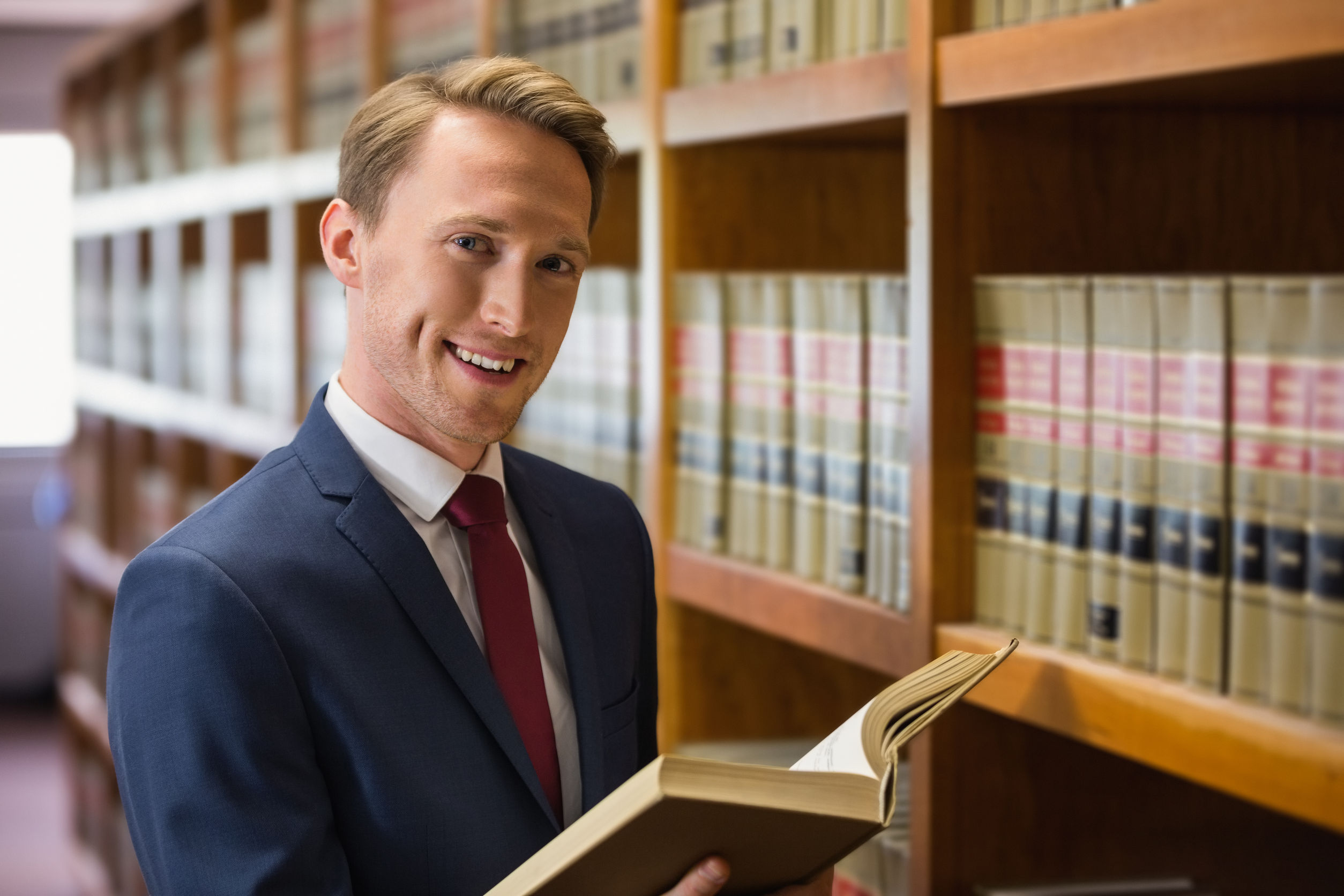 You will need the help of a skilled attorney to file a lawsuit against the building owner, manager or others. If you can prove that the owner, manager or others knew or should have known of a potential hazard but failed to correct it, you may be entitled to receive money damages for your injuries.
Call today for a free consultation and review of your case.
NY Construction Accidents Can Harm Bystanders, Too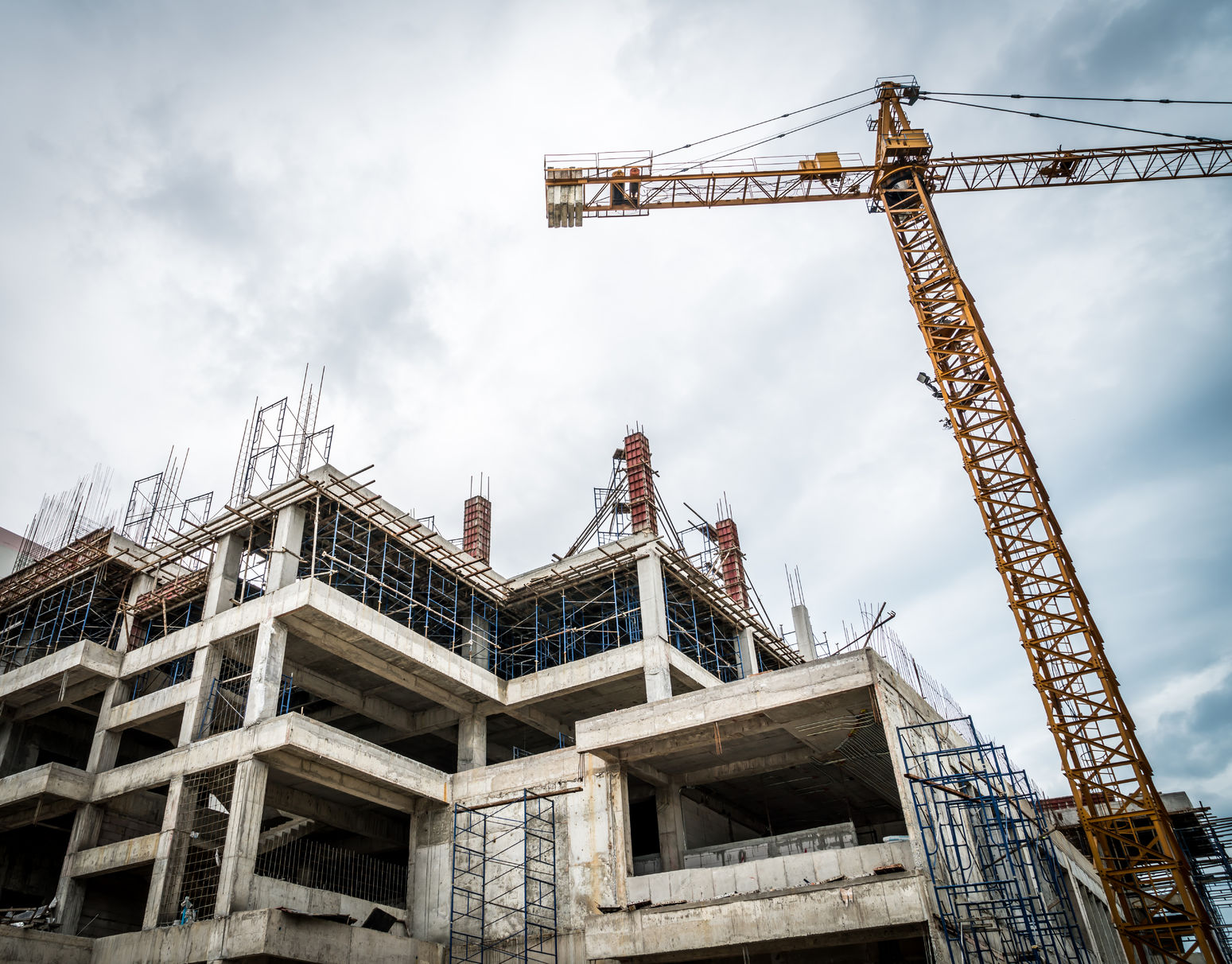 Construction is an incredibly dangerous profession to work in, and there are plenty of statistics to back that up:
Ten percent of construction workers are injured every year. This equates to 150,000 construction site injuries annually.
If a construction worker stays in his/her job for 45 years, he or she has a 1 in 200 chance of dying on the job.
Falls are the top reason for construction worker deaths. The highest falling risk is from roofs, then from scaffolding and ladders. The other top reasons for construction worker deaths are getting struck by an object, electrocution and getting trapped inside or in between objects.
New York is one of the top five states that employ construction workers. Unfortunately, it also has a higher-than-average construction worker fatality rate of between 21 and 40 deaths per year.
Almost 20 percent of all workplace deaths occurred in the construction industry between 2002 and 2012. This statistic rose to 1 percent in 2016.
Younger, less experienced construction workers are more likely to be injured or killed in construction accidents than older, more experienced workers.
What if you don't work in construction, though? Do you even need to worry about construction accidents?
Absolutely. While it isn't quite as common, plenty of regular people get hurt in construction accidents just by passing close enough to a worksite.
In this post, we'll explain the most common reasons that bystanders face injuries and what you can do if you've experienced a construction accident.
Common Construction Injuries Bystanders Face
There are five different ways bystanders are commonly injured in construction accidents.
Falling object. If cranes, scaffolding, and construction materials are not properly secured, they can cause bodily injury, serious bodily injury, or death if they fall on you.
Hazardous chemical spill. Construction workers use many different chemicals under strict regulations. If these chemicals spill or get into the environment, they have the potential to injure bystanders through direct contact or vapor inhalation.
Ear injury. Noises on construction sites can be so loud as to damage hearing or rupture the eardrums of bystanders, who are not wearing protective coverings like the workers themselves.
Slip and fall accidents. If construction site debris, equipment, cords, or tools are carelessly left in the open, they can cause slip and fall accidents to bystanders. Slip and fall accidents can cause a wide array of injuries, including traumatic brain injuries.
Blunt force trauma. You can be hit by a construction site vehicle or any construction materials that aren't properly operated or handled. A blunt force trauma injury can cause serious injury or death.
If You Have Been Injured in a Construction Site Accident
Construction workers can file lawsuits for their injuries on construction sites under the labor law, but if you are a bystander and you're injured in a construction accident, what protections do you have?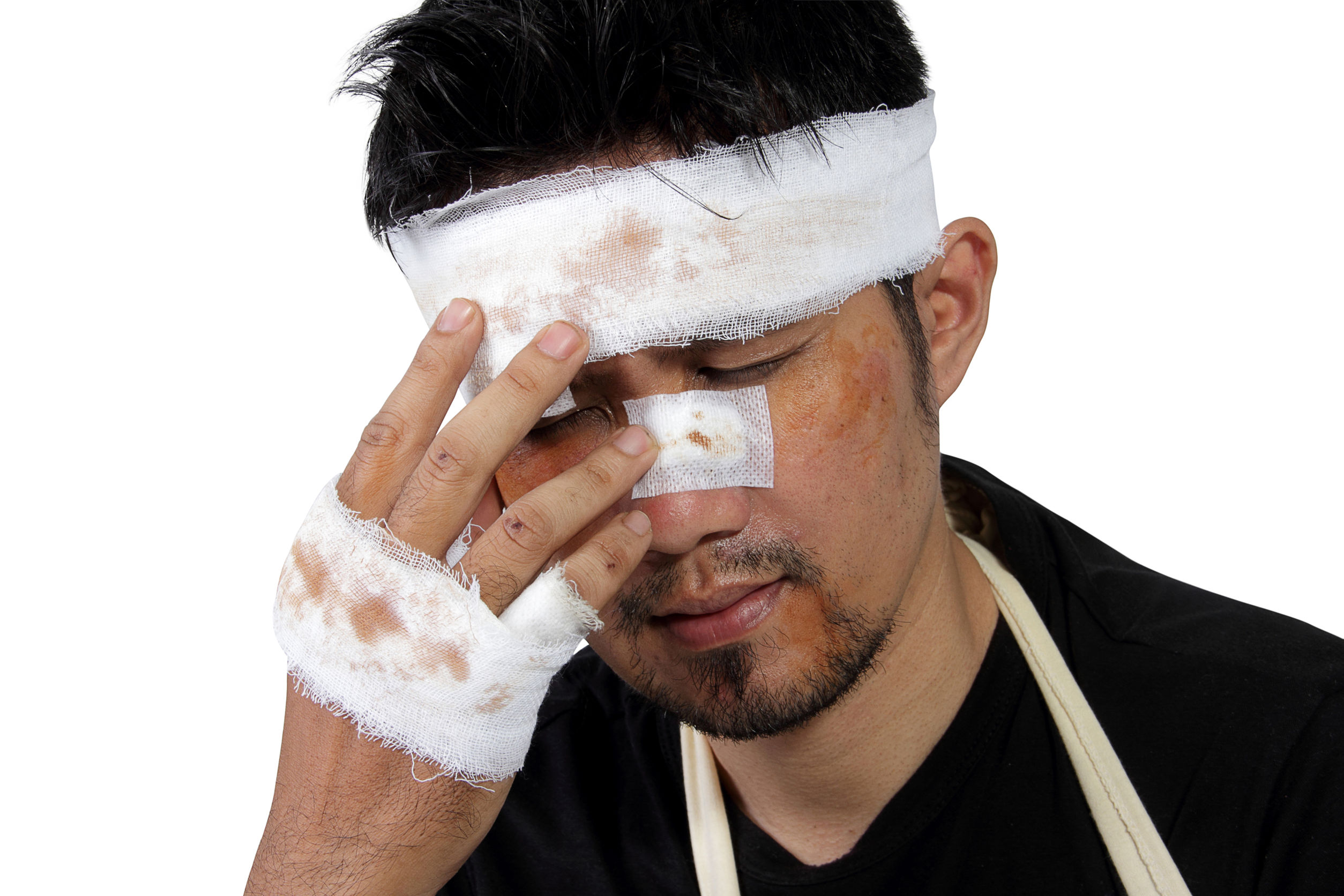 Consult with an experienced personal injury attorney to learn if you can seek compensation for your pain and suffering and lost wages. You should not have to bear the serious burdens if someone acted with negligence that caused your injury. It's important to visit the doctor first and if a serious injury has been caused to you then call a New York attorney for help.
A knowledgeable construction accident lawyer will understand New York liability laws and how they apply to your case. Reach out today for a free consultation with an attorney who will fight to protect your rights.
What to Look for in a New York Personal Injury Lawyer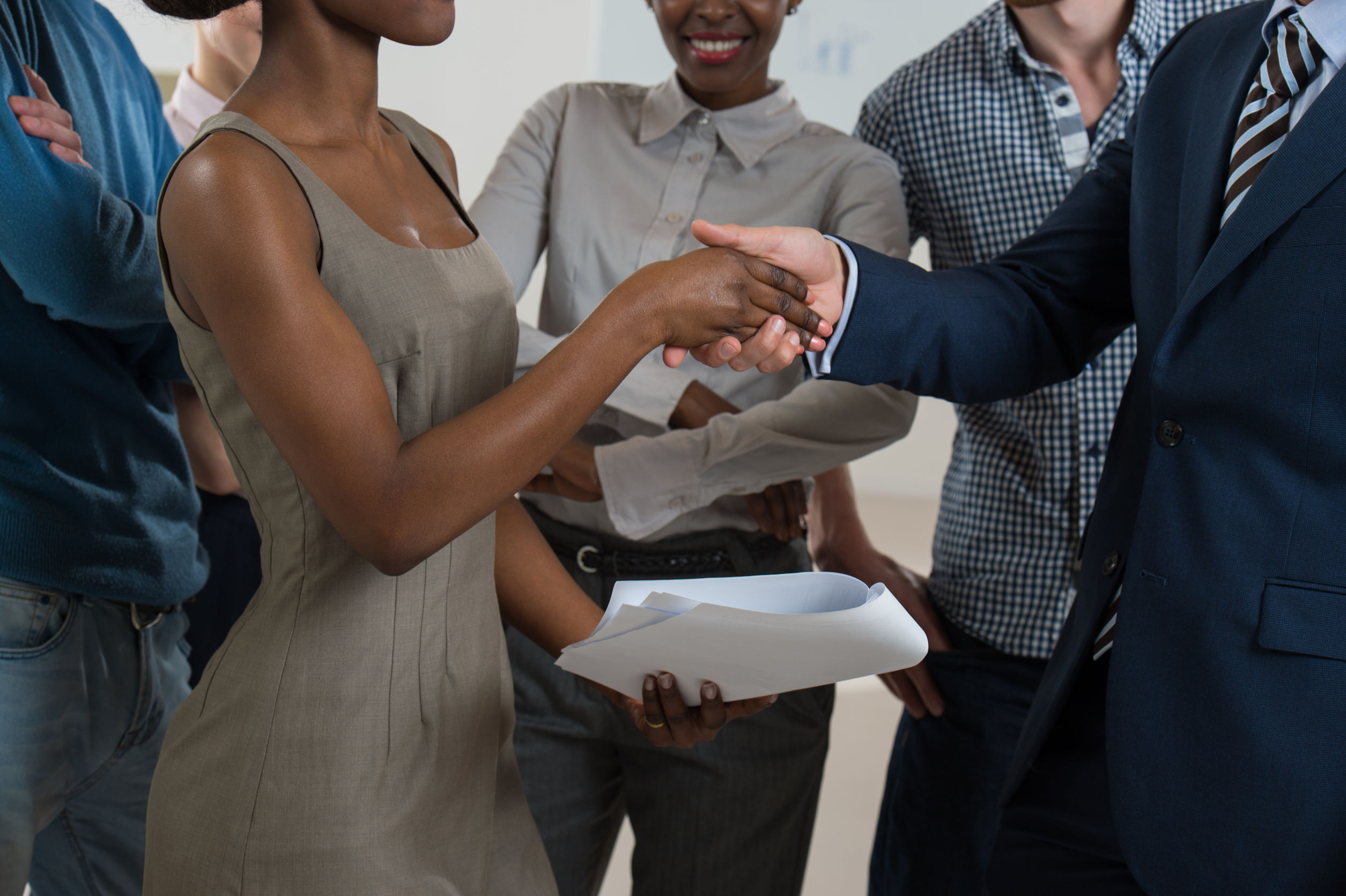 If you've been injured due to the negligence of another in New York City, you need the best possible legal help you can get. Someone who's going to fight for your rights and knows the injury laws of our state thoroughly. You need someone who will take the time to make you a priority and gets the job done.
How can you really know that the attorney you choose will have those qualities, though? What specific things should you look for?
Experience
In evaluating the attorney you select evaluate the attorney's specific experience handling personal injury cases. An experienced personal injury lawyer will have hands-on experience dealing with insurance companies, judges, and juries and know how to handle a case from intake through settlement or trial.
Area of Concentration
Personal injury cases are often complex and your lawyer needs to understand the specific laws that apply to your particular type of accident or injury. That means if you are in a car accident, you want an attorney knowledgeable about handling car accident injury cases. The same for slip and falls, medical malpractice, or construction accidents.
Referrals
Ask your family members, friends, and coworkers for references. Read testimonials online. If you have a good working relationship with a lawyer who doesn't practice personal injury law, he or she can probably recommend a colleague for your case. Check out online referral services as well.
Initial consultation
At your initial consultation, come prepared with all the relevant paperwork. This includes any correspondence with insurance companies, police reports, income information (including loss of income figures) and medical records.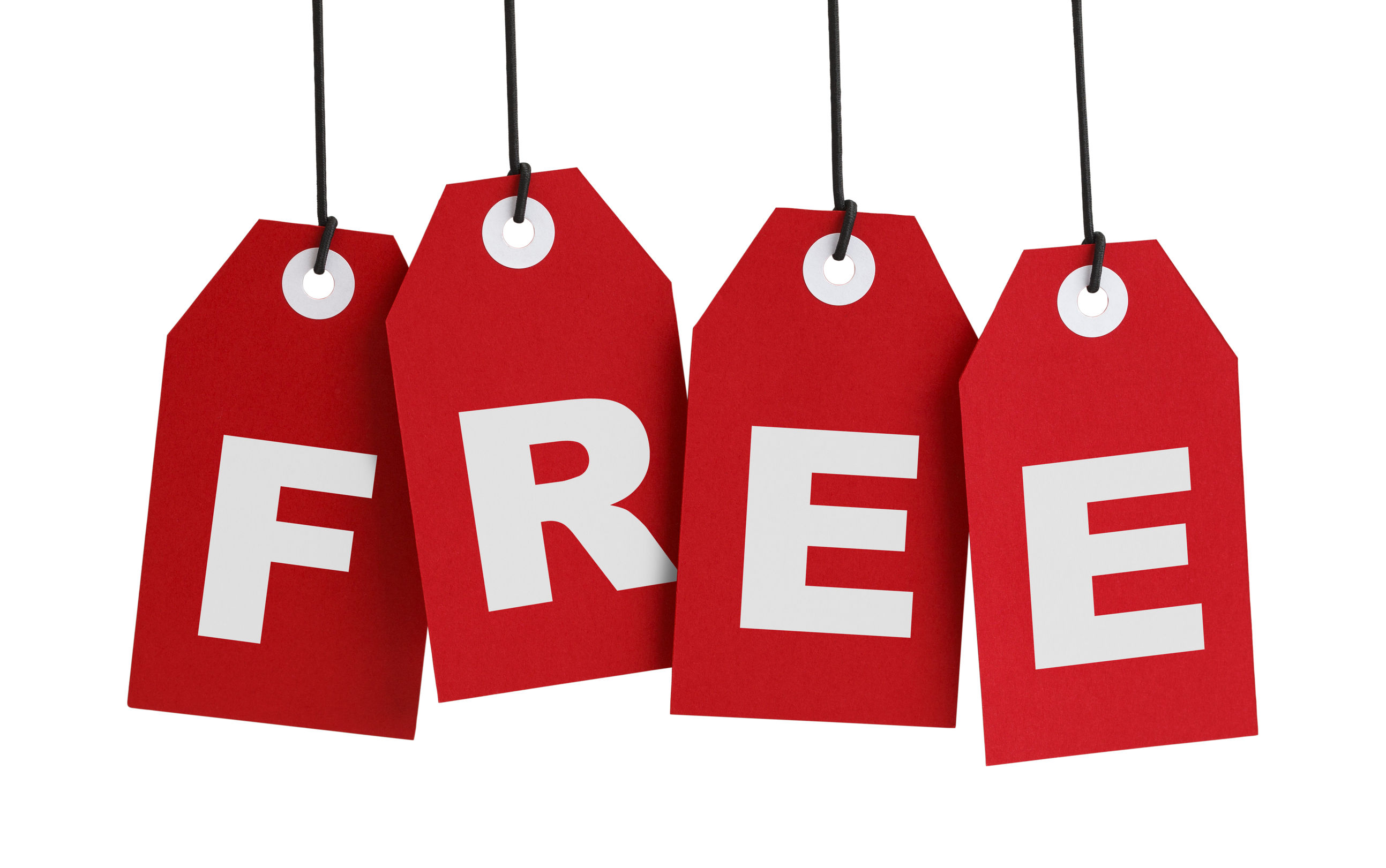 In personal injury and medical malpractice cases, your initial consultation is normally free. Be sure to ask ahead of time so your expectations are clear.
One important thing to remember – a lawyer cannot promise a particular outcome. If you meet with a lawyer and he or she makes absolute promises about the results you should be very skeptical.  Too many factors affect lawsuits to be able to predict outcomes at the time of initial consultation.
Warning Signs to Watch Out For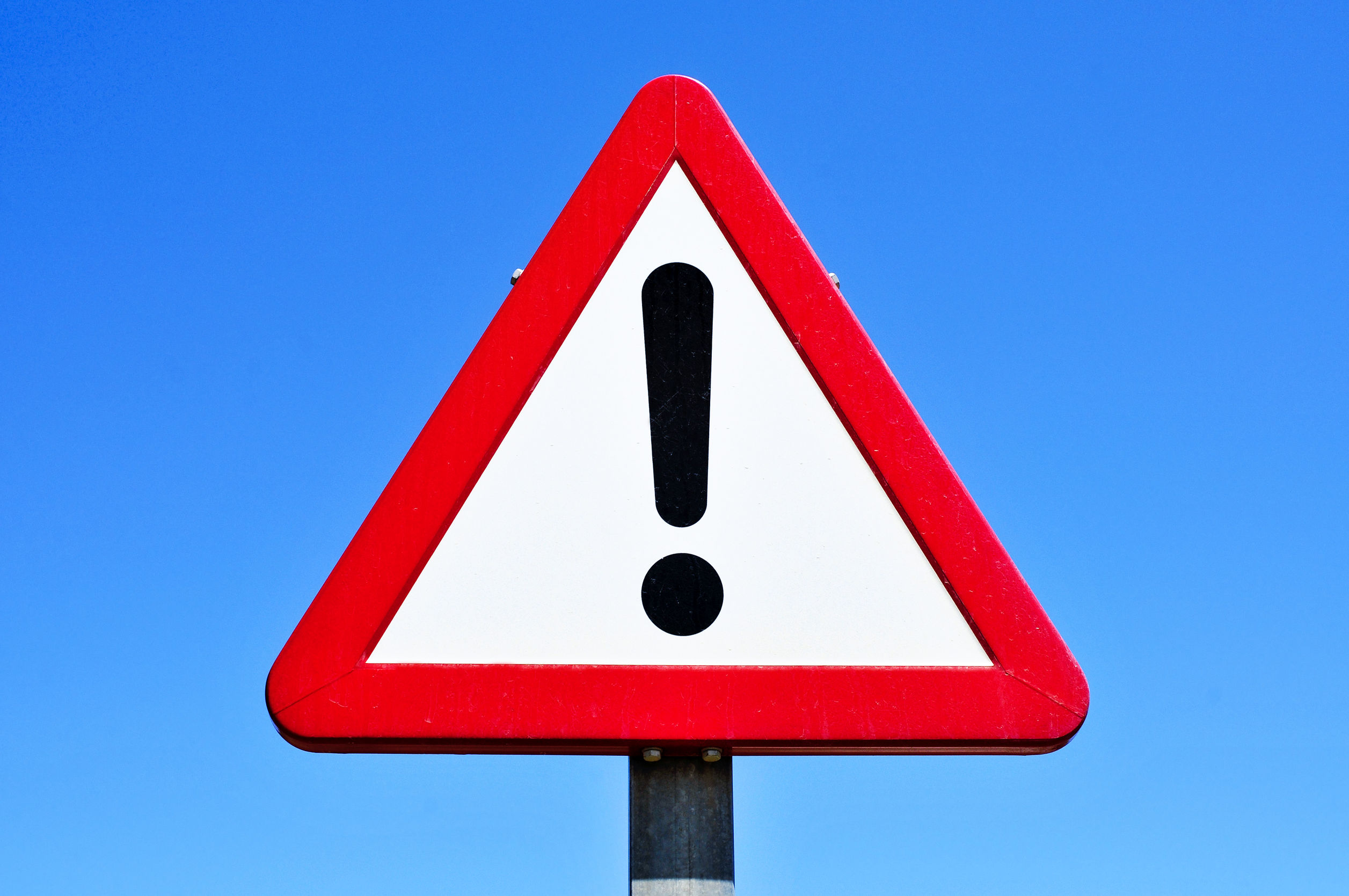 Pay attention to the following warning signs of a potentially bad situation. If you notice any of them be careful.
Beware of unsolicited mailings or phone calls right after your accident which promise you a fast settlement.
Charging a fee up front is unusual. Most personal injury lawyers have free initial consultations.
As mentioned above, nothing is guaranteed—be very skeptical if a lawyer promises a result.
If you follow these guidelines, you are likely to find a personal injury lawyer that you are comfortable with to handle your case.
Your Motorcycle Crashed in NYC – What You Need to Do Next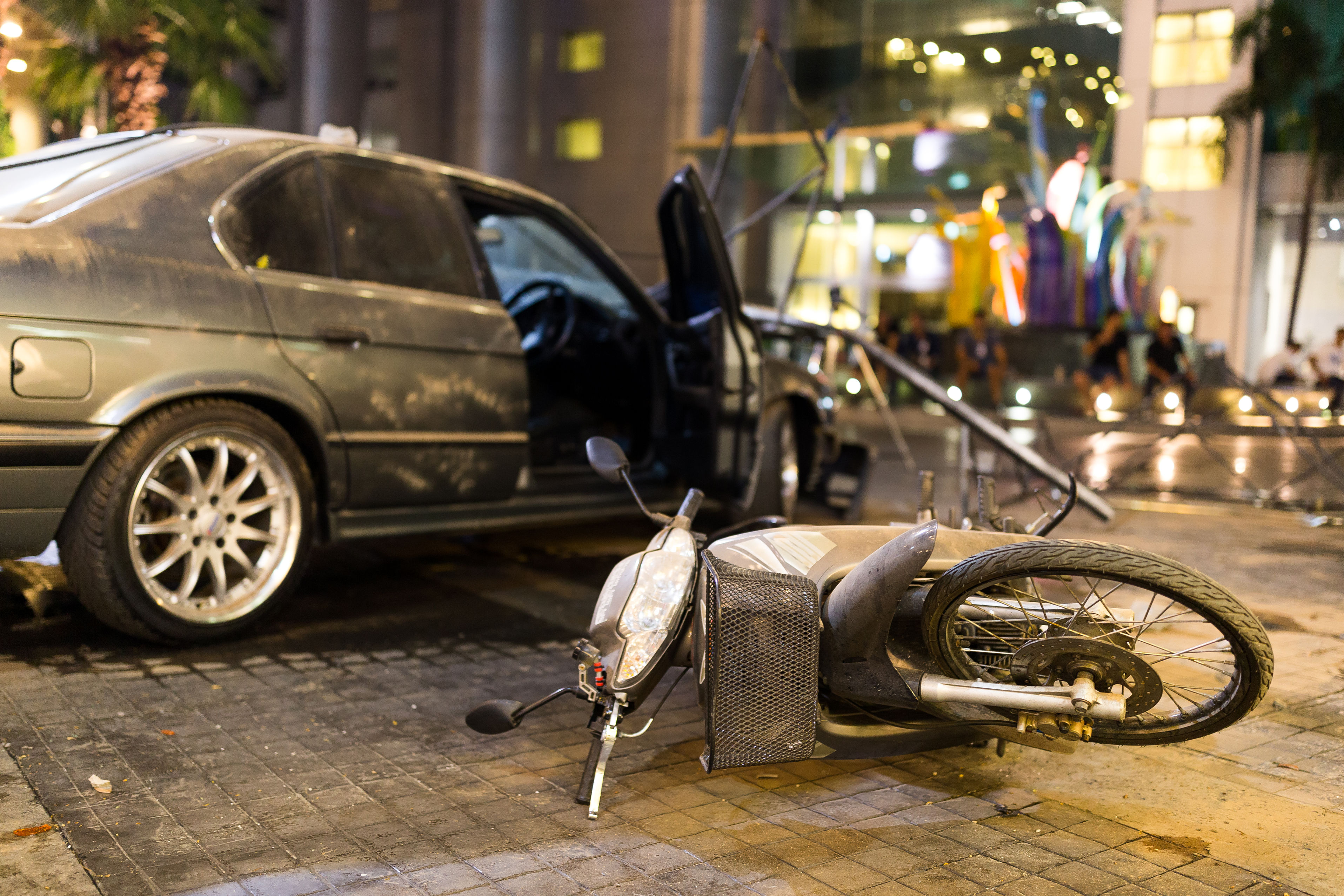 If you were recently in a motorcycle crash in New York, it goes without saying that you're having a rough start to the new year.
Unfortunately, due to the inherent differences between motorcycles and other motor vehicles, you are far more likely to not only get into an accident, but also suffer serious injury. Because of this, it is important that you understand how you should react after a crash – both what to do and what not to do.
Remember, motorcycle accidents – like all vehicle crashes – are subject to negligence laws. If another is proven to be negligent in your crash, you may be able to hold them liable and recover costs due to pain and suffering, medical bills and lost work.
After an accident, it's up to the police, insurance companies, and sometimes the courts and juries to decide whether negligence was a factor and who should pay for the damages. To win a claim of negligence against another, you need a knowledgeable New York injury attorney who understands the law. You must be able to prove that another's negligent behavior caused your injuries and that you suffered losses due to your injuries.
Mistakes to Avoid after a Motorcycle Crash
Before we even dive into what you should do, it's important to know what not to do.
Don't Shrug it off. Dealing with an accident can be frustrating and time-consuming. If it seems like no one was hurt and there wasn't much damage, the urge to say "no big deal" and ride off can be strong.
Resist these feelings. Why? Because you have no way of really knowing how serious a crash and crash-related injuries are right after the incident. In fact, symptoms for a number of injuries may not show up until days or weeks later. If you neglect to get the information you need at the scene, you may be stuck footing the bill.
Don't discuss fault. Maybe you feel like the accident could have been avoided if you'd done something differently. Maybe you're just apologetic by nature and you're more inclined to say something like, "no, no, it was me." Whatever the situation and whatever your natural inclinations, do not do this.
Fault and liability are rarely as simple and straightforward as they seem. Even if you did make a mistake of some kind, it is possible that the negligent actions of another compounded your behavior, either directly leading to the accident or possibly making it worse. It's not your job to decide fault. Remain silent on the issue except as needed to answer the questions of responding police.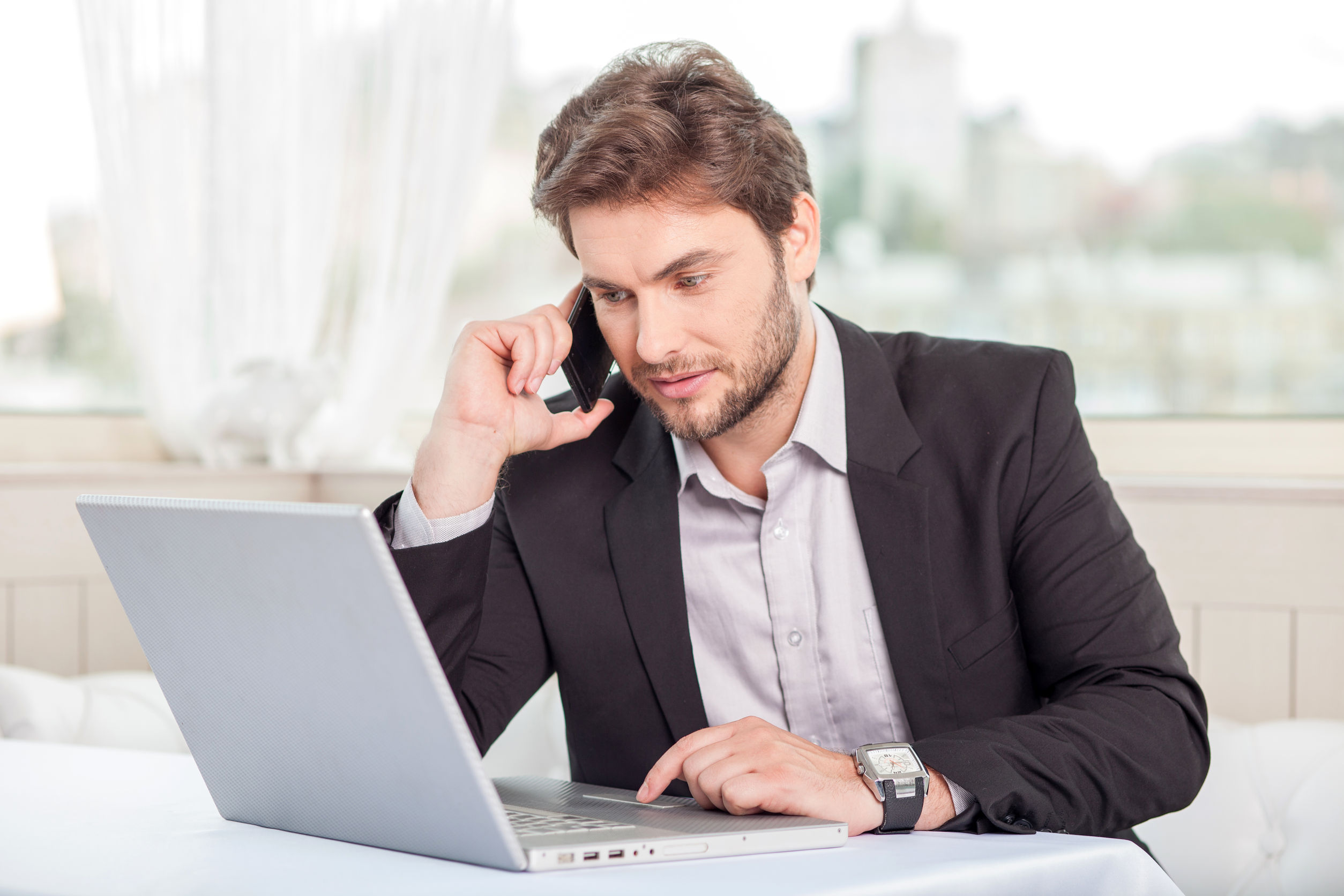 The Steps You Should Take after an Accident
Now that you know what not to do, here are the steps you should take:
Check for injuries and get medical help. This is the absolute first thing to do after any accident: make sure everyone is okay. If anyone doesn't seem 100 percent, it's best to call 9-1-1. Also, as mentioned above, you need to get checked out even if you think you're fine.  You could be wrong and you can never get a medical evaluation too soon.
Get info and evidence. Collect all the information you can from the accident. Photos, insurance information from the other driver, and phone numbers are essential items in proving your case. If you're worried about the other driver trying to give you fake info, calling the police may be a smart move.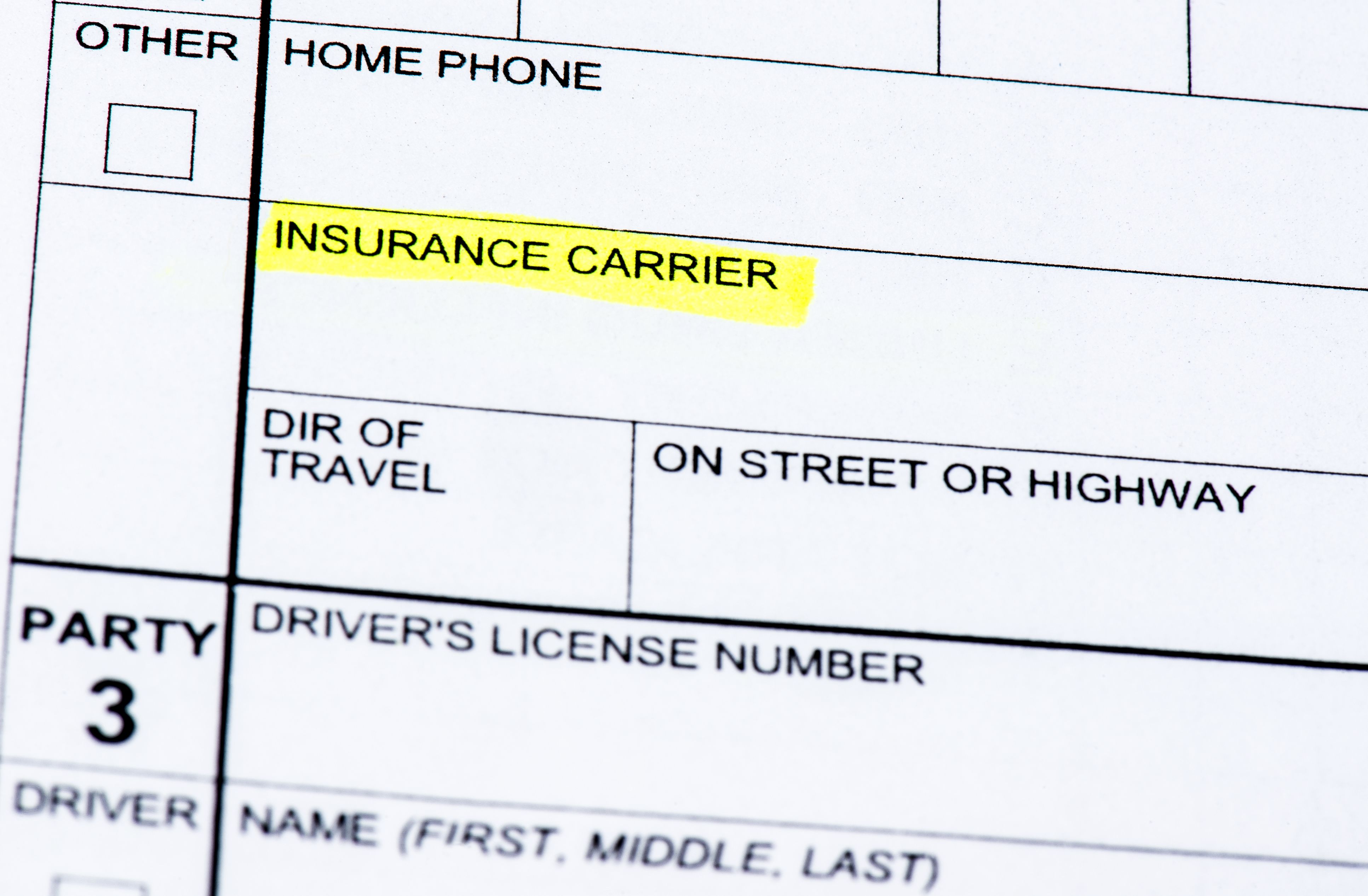 As a nice bonus, if you're pretty confident the accident was caused by someone else, the police report can be an important piece of supporting evidence or leverage in compensation negotiations.
Contact an attorney. It is worth your while to get in touch with an experienced motorcycle accident lawyer in New York even if you don't think a lawsuit is going to be necessary. The truth is that you just don't know. The driver may admit fault at the scene, then blame you for damages later. Their insurer may act in bad faith and try to wrongfully deny you compensation. If an EMT conducts your medical exam, they might miss something.
A skilled injury lawyer will be able to look at the facts of the incident, let you know whether or not you have a viable case and come up with a plan to help you secure the compensation you deserve.
Keep Yourself Safe from These Common NY Thanksgiving Accidents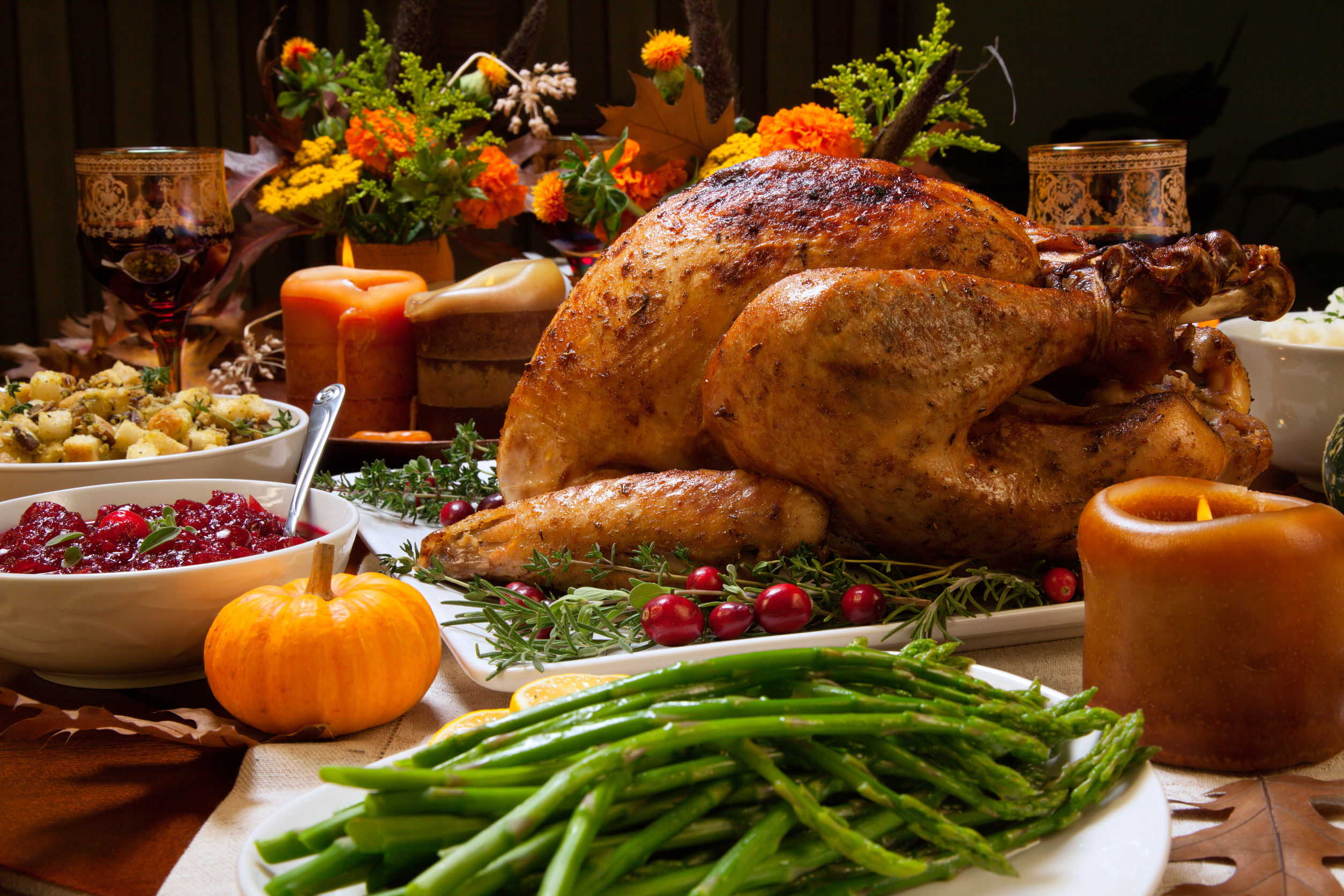 The Thanksgiving holiday is more than just a real feast, it's also a "feast" of food, fun, and family time. Unfortunately, as with the real feast at the center of the celebration, sometimes it's possible to overdo it or act without thinking.
When that happens, it can lead to a number of injuries. Here are the most common ways people get hurt on and around the Thanksgiving holiday and how to avoid each one.
Auto Accidents
Millions of Americans travel by automobile over the Thanksgiving weekend which means the potential for car crashes significantly increases between Wednesday and Sunday.
If you're on the road this Thanksgiving, it's wise to practice smart driving habits with all the extra traffic. Put away all distractions, especially your phone. Wear your seat belt – over 60 percent of those who die in holiday car crashes are unbuckled. Above all, don't drink and drive as that puts everyone at risk for serious injury or death.
Slips and Falls
If you have adverse weather conditions where you celebrate Thanksgiving, plan to watch your step when you get out of the vehicle and make sure to wear shoes that grip the ground well. As a Thanksgiving host, prep your yard and sidewalks ahead of time. Treat any ice/snow-covered areas, sweep away debris and remove clutter from walkways and porches.
Inside the home, avoid slip and fall injuries by clearing paths, cleaning up spills, and making sure no little children are underfoot when you are carrying heavy items.
Also, if you're planning to decorate your home for the holidays after the feast, make sure to use extra precautions while using a ladder. Many people end up with fractures and sprains from falling off ladders while hanging lights or greenery. Test your ladder for stability first and don't exceed the weight limit.
Burns
Burns happen on Thanksgiving most often because people are trying to put out a fire the wrong way. Keep a fire extinguisher on hand and use it instead of water – especially on grease fires because water on grease fires may increase your chances of getting burned.
If you plan to fry your turkey this year, it's crucial that you follow these burn precautions:
Set up your fryer far away from flammable objects, including dry leaves.
Use protective gear like long-cuffed gloves, frying hooks and safety glasses.
Completely thaw and pat-dry your turkey before frying.
Be sure to follow fryer guidelines for proper oil levels and temperatures.
Never leave the turkey fryer unattended.
Keep children away from the fryer at all times.
Take care not to get a burn injury in the kitchen also. Watch for splattering when removing items from the oven or stove. Keep sleeves pushed back so they don't accidently catch fire. Make sure your pot handles are turned away from the front to prevent spills.
Cuts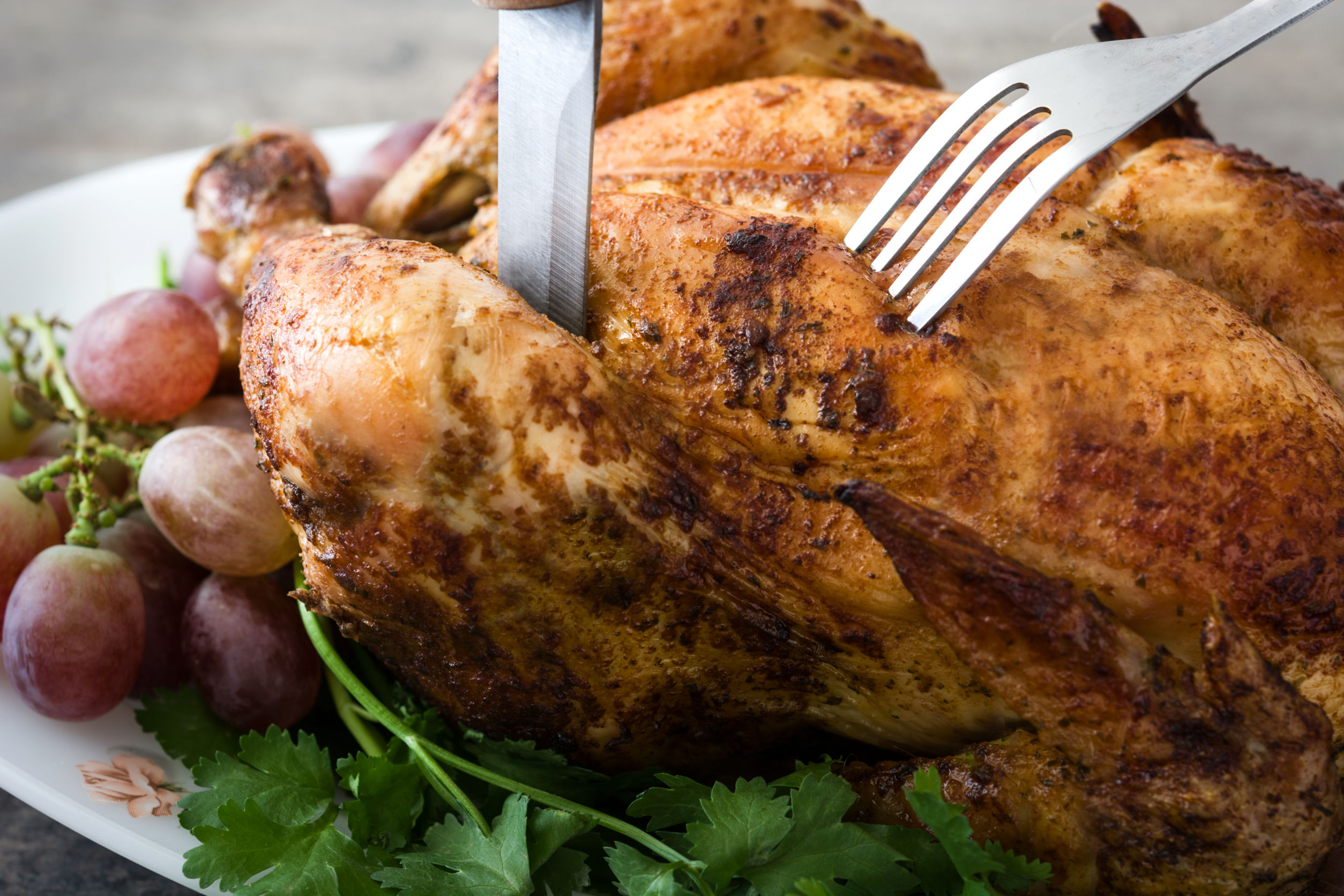 Many people get cut by handling knives improperly. To avoid this, you need to follow a few safety precautions.
Start with a sharp knife, since sharp knives are steadier than dull ones.
Pay close attention, keeping your eyes on the food and your fingers curled under to prevent injury.
Leave the turkey carving to someone with experience.
Secure your cutting board with a silicone or rubber pad underneath.
Food Poisoning
You can spoil your whole Thanksgiving weekend with a bout of food poisoning. Because of this, it's important to take several precautions to keep foods safe:
Allow plenty of storage space in refrigerators and freezers so air can circulate properly.
Defrost your turkey and other meats in the refrigerator, not on the counter.
Cook all meats to full temperature.
Wash your hands thoroughly before, during, and after cooking.
Keep raw meats and eggs separate from other foods to prevent cross-contamination.
Don't leave food out too long.
Reheat leftovers thoroughly.
Football
Many families enjoy a post-meal game of football, but a fun game can turn into a horrible day if an accident occurs.
To stave off injuries, there are a few things you should remember, such as:
Work out ahead of time.
Warm up before the game with some light aerobics and stretching.
Don't drink alcohol before playing – it can impair your judgment.
If you haven't played in a long time, it may be best to cheer others on rather than participate.
If you do get injured, stop playing right away and get help. Typical Thanksgiving football injuries include broken bones, sprains, and slipped discs.
Alcohol-related injuries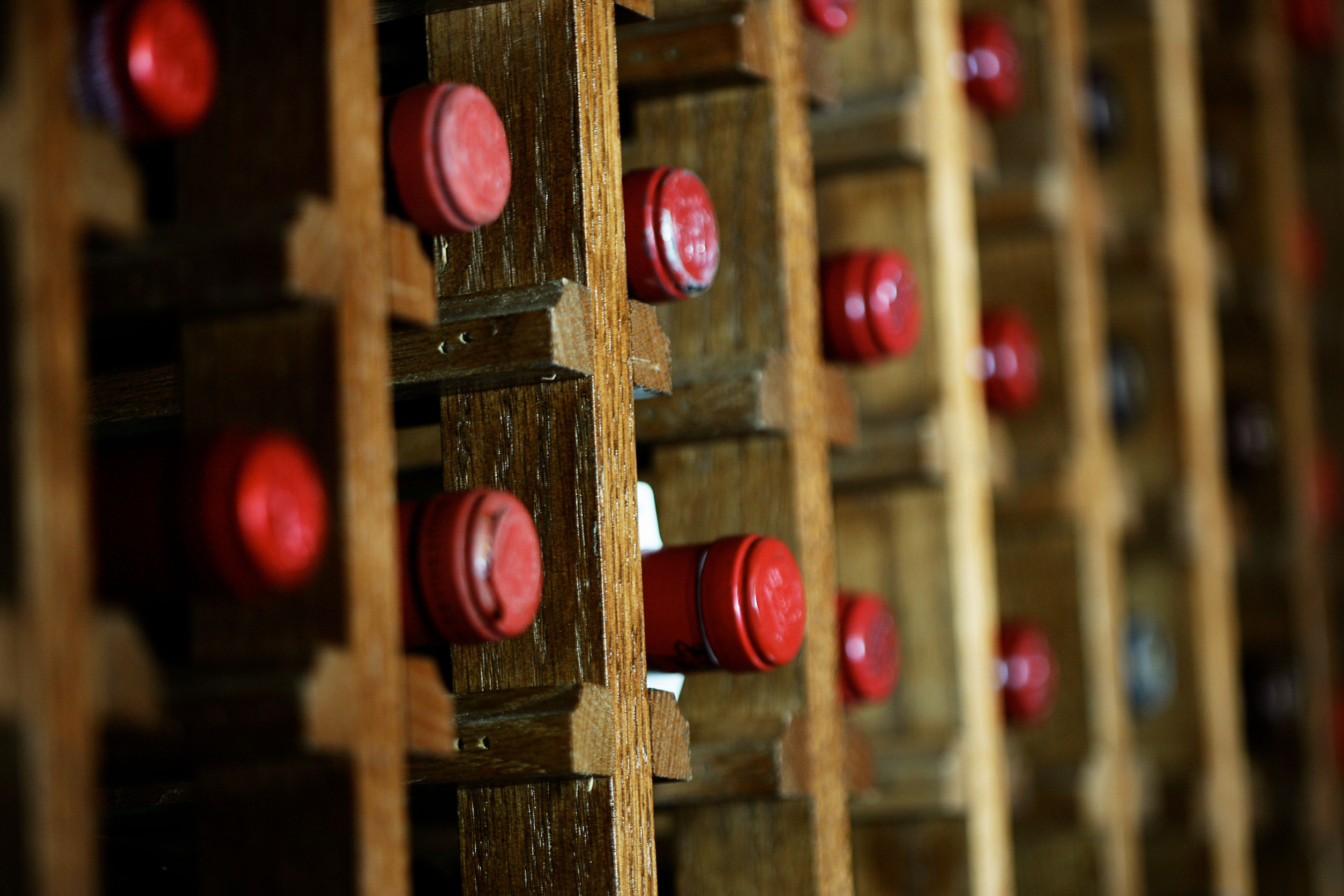 Have a plan in place to drink responsibly. Also remember to keep drinks out of the reach of children. Curious toddlers may take a sip and get sick, so always keep track of your glass and lock up bottles of alcohol.
If you become injured this Thanksgiving due to someone else's negligence, time is of the essence to get compensation for your injuries. Contact an experienced attorney as soon as possible to receive the help you need.
5 Common Personal Injury Claims in New York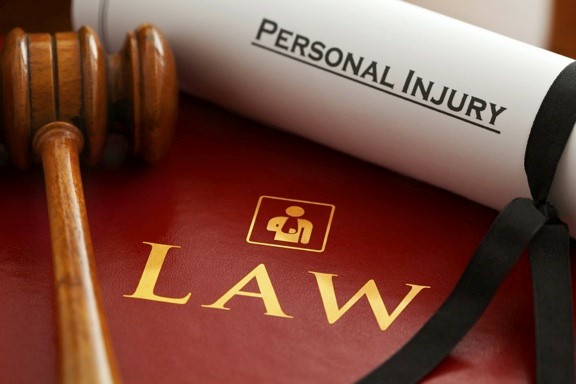 Even after you have physically recovered from an injury, the bills and damages associated with medical costs may still hurt.
Damages from an injury aren't always in the form of medical bills. If you are injured due to someone else's behavior or actions, you may be able to receive compensation for damages that include the following:
Medical bills
Lost wages
Pain and suffering
Wrongful death monetary loss for spouse and children
Loss of parental guidance from wrongful death
If you have recently been injured and have considered filing any of the following claims, you are not alone. Below are some of the most common personal injury claims in New York.
Types of Accidents and Injuries Caused by Negligence
Slip and Fall/Trip and Fall Cases. People are caused to fall all the time. Why bother taking someone to court over it? Because what you may not realize is that many slip and fall/trip and fall accidents result in incredibly serious injuries (including traumatic brain injuries).
If the incident occurred due to the negligence of someone else (e.g. the employee at a grocery store, or the maintenance crew at an apartment complex), then it should be treated like any other personal injury case. In short, you shouldn't have to pay if others were negligent in causing the accident.
Motor Vehicle Bodily Injury Claims (accidents involving cars, trucks, public transportation, etc.). Injuries that occur due to vehicle accidents are widespread and can be quite severe. If you are hurt in an accident because the other driver was acting in a careless or negligent manner (or, in the case of truck accidents and public transportation if the organizations engaged in these types of behaviors), you can hold them accountable for their actions and file a lawsuit for money compensation.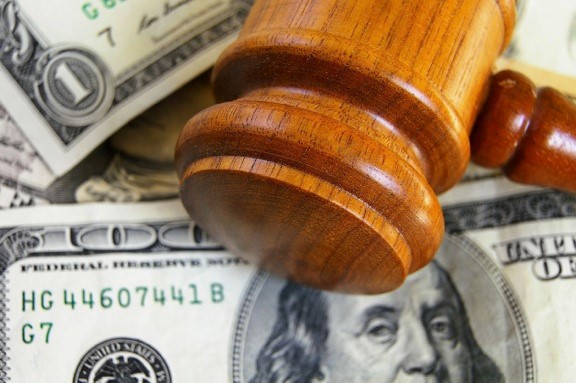 Medical Malpractice. There are few people we put more trust in than the medical professionals who treat us in hospitals, emergency rooms and doctors' offices. Quite literally, they can be the difference between someone living and dying. It is a huge responsibility which is why they have to go through such extensive training.
Unfortunately, sometimes health professionals make mistakes that they shouldn't make by violating medically accepted standards of care that cause harm. If this happens to you and you end up suffering further injury, illness or death, you may be the victim of medical malpractice. Common forms of medical malpractice include misdiagnosis or surgical mistakes.
Construction Accidents. Construction workers are often the victims of some of the most horrific workplace accidents in New York City.  Few know that they have special protections under the law especially when they are caused to fall from a height (e.g. from a scaffold or ladder).  Building owners or general contractors related to the site construction may be held liable in many circumstances.  A lawyer experienced in construction accident cases can advise you of your rights in these cases.
Police Brutality. Between 2006 and 2011, settlements from police brutality lawsuits cost New Yorkers $348 million. Police brutality can range from unlawful arrests to unlawful deaths. An officer who violates the law and injures an innocent civilian may be held responsible if the victim decides to step forward and ask for money compensation.
Contacting a personal injury lawyer can help you navigate these claims and provide you with the best chance to win your claim case and get the money compensation that you deserve.
About the Author:
Richard Bell is a personal injury lawyer serving the community in the five boroughs, Long Island and Westchester with offices in Manhattan and Queens. His extensive knowledge of personal injury (including construction accidents,  medical malpractice, auto accidents and falldowns) has resulted in great success for many of his clients during the past 34 years. In addition to winning his clients millions of dollars from personal injury lawsuits, he has been awarded for his pro bono work and is passionate about educating citizens about voting rights.
* Prior results cannot and do not guarantee a similar outcome.

This website contains "Attorney Advertising." It is designed for general information only and should not be construed to be formal legal advice. Prior results cannot and do not guarantee a similar outcome. Please contact us by telephone or email. Be advised that using any method of communication to contact us does not create an attorney – client relationship. In order for this office to represent you, we must enter into a written retainer agreement. Simply contacting us does not create an attorney-client relationship. Please do not send any confidential information to this office until after a signed retainer has been entered into by you and this office.